World's #1 finishing resource since 1989
No login needed: Chime right in
topic 8834
Soft stainless steel
2001
Is there a process that can harden a 430 stainless steel screw? This screw is cold worked and the phillips head drive is too soft to removed a tightened screw. Therefor causing damage to the soft Phillips drive.
Ken Rothrauff
Nordson Corp. - Atlanta,GA,U.S.A.
---
2001
Hello Ken!
Well, 430 is a ferritic grade of stainless steel, and is not hardenable by heat treatment. Nor will it work harden readily. If you need a hardenable stainless steel, I would suggest a 440 grade, or maybe one of the PH grades like 17-4.
The nickel development institute offers a superb 'book' called Design Guidelines for Stainless Steel which describes the various grades is good detail, for free. Go to www.nickelinstitute.org and seek out publication # 9014. Then fill out the form and they'll send it to you.
Hope this helps!

Lee Gearhart
metallurgist - E. Aurora, New York
---
2001
It might not be the screws hardness that is the problem. The problem might be corrosion if the screw is going into a dissimilar metal such as aluminium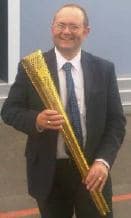 Martin Trigg-Hogarth
surface treatment shop - Stroud, Glos, England