60,000 Q&A topics -- Education, Aloha, & Fun
topic 8832
Oxidation of carbon steels at temps between 500-600'C
2001
I'm interested in getting info on the oxidation or "bluing" of carbon steels at temps around 500-600 'C. A few specific questions I have:
1. is it just a surface effect?
2. does the oxidized metal differ in electrical conductivity from the base metal?
3. what forms the oxide (chemical composition)?
4. in my application the oxidized steel will be in contact with liquid lithium. what is the chemical compatibility between this oxide and lithium metal?
Any additional information is welcome.
Tom Neirynck
Fermi National Accelerator Laboratory - Batavia, Illinois, USA
---
2001
There are three forms of oxide that form on steel when the metal surface is exposed to oxygen at elevated temperature: Wustite (FeO), Magnetite (Fe3O4) and Hematite (Fe2O3). Only magnetite and hematite can form below 570C. The scale formed below 570 will grow slowly and be primarily magnetite with a thin surface layer of hematite. Oxidation will progress more rapidly at higher temperatures. Above 570, the oxide layer will consist of about 95% wustite, 4% magnetite and 1% hematite in layers formed in that order from the substrate. Some wustite may transform to magnatite and hematite during slow cooling.
There is a detailed discussion of oxidation with pictures in the book, Light Microscopy of Steels by L E Samuels (published by ASM International).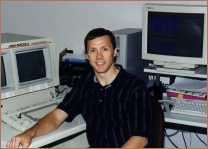 Larry Hanke
Minneapolis, Minnesota
---
2001
Dear Mr.Neirynck:
I would like to know: What difference in colour would two steel surfaces show when viewed at room temperature if one is exposed to oxygen at temperatures below 570 degrees C and the other at or above 570 degrees C?
Regards,
Mr. Wilmer Urbano
- Punto Fijo, Edo. Falcon, Venezuela