60,000 Q&A topics -- Education, Aloha, & Fun
topic 8824
Methods of analyses
2001
I am looking for a method for analyses to NaOCl,if you know any method please tell me.
Paulo SÈrgio Martins Alvares
- Londrina, Pr, Brazil
---
2001
Senhor Martins Alvares,
You should dissolve 0.5 g of soluble starch in 5 ml of cold demi water and add 95 ml of boiling water (add 0.1 soln of salicilic acid as preserver). As titrating agent you should use Sodium Thiosulphate 0.1 N. 25 ml of NaOCl are diluted to 1000 ml. 25 ml of this solution are put in a 250 ml flask, containing 50 ml of water, 20 ml of KJ (Potassium iodide) 10% and 10 ml of conc. Acetic acid (keep the 25 ml pipette tip slightly immerse into the solution). Titration follows: when solution colour changes from dark brown to light yellow, add 1 ml of starch solution. Titration ends when the blue colour disappears.
Results
Active Chlorine (g Cl/litre) =
(ml thiosulphate*0.1*35.46)/0.625 where 0.625 is the actual NaOCl employed
Best regards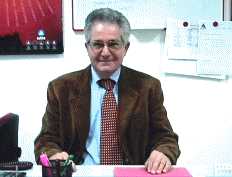 Francesco Cicchetti
- Sulmona, Italy