60,000 Q&A topics -- Education, Aloha, & Fun
topic 8809
Kennel floors
2001
We have just installed 4'X8' steel perforated floors in our dog kennels (60 or so).The perforations are 1/4" and they are finished in red oxide primer. Problem is than the dogs are getting their nails hung in the holes.
We would like to coat them with something to reduce the hole size, apply on site, and that would not be a toxin danger. It would have to adhere enough to stop chewing and handle the wet conditions.
Any suggestions you may have sould be much appreciated!
GerlachSally
- Cumming, Georgia
---
2001
Hi Gerlach,
I didn't answer this before as I had hoped that someone else, more qualified, would have solved your problem.
Seeing that your hole sizes are too large (evidently the fabricator hadn't a clue about the proper sizing or kennel manufacture), may I suggest you get some l/8 inch perforated plate and 'lay' that on top ... you'd most probably have to put down a few washers, round headed screws and bolt from underneath unless you redrilled and tapped.
I was originally thinking of standard PVC sheets 4' x 8' with l/8" dia holes (26% open area by calculation) which come normally in l/8" thickness. Fairly abrasion resistant, non-toxic, not really a chewable materials ...won't need painting (grey in colour). You could cut this onsite very easily yourselves. Just use a skill saw.
Another suggestion is to screw on a fairly narrow ledge on two sides and, beforehand!, slide fit in the PVC underneath
Hope that this will get the mutts' sincere app(l)aws!
Cheers !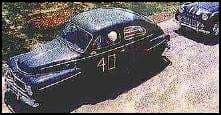 Freeman Newton [dec.]
White Rock, British Columbia, Canada

(It is our sad duty to advise that Freeman passed away
April 21, 2012. R.I.P. old friend).