60,000 Q&A topics -- Education, Aloha, & Fun
topic 8783
Ni Activation
2001
How can I activate a Ni-surface for Au deposition. Has anybody a easy solution to handle this.
Best regards
Martin Priester
- Stuttgart
---
2001
Cathodic Activation in a solution of 50 -100 gms of NaOH,for 5-7 minutes followed by two rinses and straight to silver strike works for us.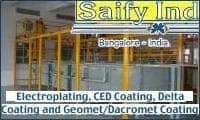 ---
2001
I would recommend using a proprietary electrocleaner cathodically, these baths will also thoroughly clean any residual soils. Usually only 1-2 minutes are required. Then cold water rinse immediately, not allowing the electrocleaner to dry whatsoever. Then activate using a sulfuric acid based activator, this will preserve your nickel finish. Then cold water rinse, immerse the work in the gold and finally apply the desired current.You should be all set now!
Russell Richter
- Danbury, Connecticut, USA