60,000 Q&A topics -- Education, Aloha, & Fun
topic 8782
Plated Anode Basket
2001
The bottom parts of the nickel (anode) basket got plated. We suspected bad connection (to the anode bar) but I think it is more than that. Please advise.
Ming Cheung
- Canada
---
2001
If it is plated with Nickel Metal, then you probably have parts lying in the bottom of your tank shorting the basket to the cathode during plating.
If it is a green powder like growth, then either your chloride is too high or your anode area is too low vis a vis your cathode area.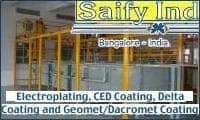 ---
2001
I think you are correct! Here's how it can happen. If you have an empty or low anode level in a basket it will become bi-polar because it is in the field of other anodes in the tank. Then the empty basket will actually deplate under certain conditions on one side and will plate on the other side. If you are using high current make sure that you only have one set of anodes directly facing the work. Say a box or circle around a part. If there is any other baskets connected to the circuit but outside the box then the phenomena could occur also even if the baskets are full and connected.
Good Luck
Russell Richter
- Danbury, Connecticut, USA