60,000 Q&A topics -- Education, Aloha, & Fun
topic 8763
Temperature Testing Strips
2001
I wish to test the actual temperature on a sheet metal part that is powdercoated and being cured in an infrared oven. I am not getting an even cure and suspect the emitters need to be adjusted. I have seen thermal test strips used but have been unable to locate a source from which to purchase them. Anybody have an idea?
Steve Headley
appliance service - Upland, California, USA
---
First of two simultaneous responses-- 2001
Hi Steve,
The temperature tape I got sitting in front of me says: Teletemp, Fullerton, CA. This one is model# 110-8 which records between 390-450 F.
Regards,
Jake Koch
G. J. Nikolas &Co.,Inc.

Bellwood, Illinois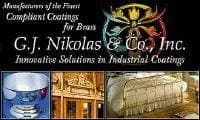 ---
Second of two simultaneous responses-- 2001
I just did a Yahoo search for "temperature indicating labels" and came up #1 with a catalog with tons of them.

James Totter, CEF
- Tallahassee, Florida
---
2001
Omega do a nice range of non-reversible temperature indicating labels with up to 5 temperatures on each label.
Ciaron Murphy
- Great Britain