World's #1 finishing resource since 1989
No login needed: Chime right in
topic 8722
Can Scrubber Pad Cartridges Be Cleaned?
2001
The fume scrubber for our chrome plating tanks uses several large multi-layered pad cartridges that are very expensive to replace. Does anyone know of a device or procedure that would allow us to clean these cartridges without generating a significant amount of additional hazardous waste?
Ronald Beauchamp, P.E.
- Escanaba, Michigan, USA
---
2001
Ron,
Pardon me asking, but why in the HECK aren't you protecting your mesh?
Mesh is superlative! It has a very high efficiency. However, it's design for vertical flows should never exceed 500 fpm and hence it is bulky. It is also VERY prone to plugging up.
I have OFTEN replaced mesh. OFTEN! Why? Because of build-up. It was replaced using vertical (horizontal airflow) PVC mist eliminator blades. Over 3 million cfm fully annotated, too.
The first Chromic Dry Scrubbers were built in Ontario in l969. They used two banks of blades, the German Euroform T-100 design. But whereas they easily passed all Ontario & B.C. tests (0.35 grains of Chrome Sulphate versus specs of ll grains/l000 cfm) and were 30 times lower, this only equates to 0.8 mg/M3.
A later design used this concept with a (recirc. sprayed) mesh coalescer along with a final blade bank. Success!
The poor plater has 4 problems l) to acquire a chrome 'scrubber' to meet all the specs 2) to buy it reasonably inexpensively 3) to have it only generate a reasonable SP ie. HP demand and finally, very IMPORTANTLY 4) to have a low maintenance record (ideally, too, using less water than the dragout and evaporative losses).
I can't help you with your washing of your mesh but don't quite see what the problem is. You should be able to wash it all off and re-use that water. Try Yorkmesh, for example, but there are many other mesh suppliers in the USA.
If you want the RIGHT PVC blade designs, go to Munters in Florida ... or for a slightly better blade, a CT-l00, try Allanco Environmental in New Westminster (part of Vancouver) who could give you all the casing design, too.
I hope that this is of some help.
Cheers !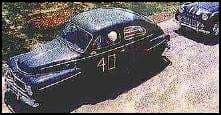 Freeman Newton [dec.]
White Rock, British Columbia, Canada

(It is our sad duty to advise that Freeman passed away
April 21, 2012. R.I.P. old friend).