60,000 Q&A topics -- Education, Aloha, & Fun
topic 8717
How To Apply/Bond PVDF to Metals?
2001
Please give me details on the ways to apply PVDF coating on steel (MS,Ss, etc.)? Does it require any heat curing. How to weld/fuse PVDF sheets/lining?
M.Narayanaswami
- Chennai, TN, India
---
2001
Hi!
You are talking about two different things. Firstly PVDF as a coating, i.e., paint ... where I am totally and utterly ignorant.
Secondly, you ask for info on welding and fusing. Well, surely the suppliers of your plastic welding equipment should give you that data, otherwise go to the local library for info.
Re fusing, that applies probably ONLY to pipe. As PVDF is quite expensive, I doubt that any serious fabricator would want to get material which is thick enough to lend itself to easy fusion, i.e., min. 1/4" presupposing the sheet is totally and utterly dead straight and presupposing you have a state of the art sheet fusion machine which costs $$$$.
Welding is an art. You'd need to practice quite a bit and preferably with a tutor so that your mistakes can be corrected. Further, it would be horribly expensive to 'practice' with PVDF, initially try something simpler such as Pe, PP or PVC.
I hope that this helps you somewhat.
Cheers.
Most PVDF 'tank' and fabrications involving stress are made using a sheet with a glass fibre backing. In this manner, the sheet, probably only 1/8" thick, can be easily hand welded and structurally the fibreglass reinforcing overlay would be stronger and very much less expensive that pure PVDF.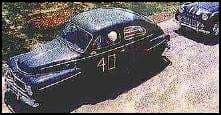 Freeman Newton [dec.]
White Rock, British Columbia, Canada

(It is our sad duty to advise that Freeman passed away
April 21, 2012. R.I.P. old friend).
adv.