60,000 Q&A topics -- Education, Aloha, & Fun
topic 8708
Black Dyeing of Chromic Acid Anodize
2001
Q. I am seeking advice on how to black dye 2024 Aluminum that has been anodized using Chromic Acid. We have no experience with this operation and the first attempt yielded little or no color change. The products we use are:
Pylam Aluminum Black 801, 1.35 oz/gal, 60-70 °C Alcor 570 Sealer, 0.5- 1 oz/gal 60-80 °C
The final dimension of the pieces is critical and I would prefer to not make any changes(temperature, voltage, time...) in the anodizing process. How significant a role does the temperature of the dye play?
Teddy McCracken
- Blacksburg, Virginia, USA
Ed. note: Accu-Labs, Inc. [a finishing.com supporting advertiser] now carries the Alcor line.
---
---
January 6, 2013
Q. What are the conditions that needed to obtain black chromic acid anodize aNorth Dakota does it require special pigment?
Limor Mictzeva
- Carmiel, Israel
---
January 8, 2013
A. Start in the lab to develop a process for your particular set of circumstances. Using the black dye you have, try different pH and different temperature in a beaker. When you get close, then see what happens when you add 0.1 %/wt ammonium bifluoride to the dye solution. Finally, see what happens when you put the chromic anodic film, briefly, back through the deox before dyeing.

Robert H Probert
Robert H Probert Technical Services

Garner, North Carolina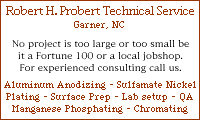 adv.