60,000 Q&A topics -- Education, Aloha, & Fun
topic 8690
Help with HE on Bent Plate 1/2"
2001
I am a bridge contractor who is experiencing HE on the following:
The Owner specified 1/2" thick bent-plate formed to a radius contain 6" diam. steel piping. Both sets of clamps have fractured at the angle point formed between the bend radius and the tabs upon bolting. As they were required to be hot-dipped galvanized, is this where the problem is? We tested some non-galz. clamps and they performed fine. I need some ammunition to communicate this issue with the designer.
Also, the carbon content of the failed clamps was between 0.16 and 0.18, which appears to be in tolerance.
Thanks for your response.
Doug Stetler
CONSTRUCTORS - Vancouver, Washington
---
First of two simultaneous responses-- 2001
I doubt that your problem is hydrogen embrittlement. The low-carbon steel will not have sufficient strength to create a HE problem, plus the hot dip is not a source of hydrogen charging.
I suspect that you are getting brittle fracture of the steel due to a phenomenon called strain age embrittlement. Some low carbon steels that have been deformed (bent) will become brittle when heated to moderate elevated temperature (dipped in molten zinc). This is a little known condition, but one I see on a regular basis in my failure analysis practice.
Preventative actions include starting with a steel heat that is not susceptible to this problem or heat treating the steel after bending.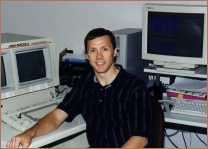 Larry Hanke
Minneapolis, Minnesota
---
Second of two simultaneous responses-- 2001
Since an essential requirement of HE failure is tensile stress it seems quite possible that the stress concentration at the angle combined with HE has caused the failure. I believe with steels, a Rockwell hardness of over 35 approx. is when one encounters HE so it would be worth doing a hardness test.If the galvanising was hot dip rather than electroplate, it would seem unlikely the problem is HE.
PS It is quite possible that the pre-galv pickle has caused embrittlement if the steel is sufficiently hard. Liquid metal embrittlement could also be a factor.
NB I do not claim any expertise on this subject.
Angus Murray
- UK