60,000 Q&A topics -- Education, Aloha, & Fun
topic 8666
Nickel
2001
How is it mined, refined and produced? How ductile, malleable, lustrous and conductive is it? Does it rust? And if so how can we protect it from rust? And can I have a picture of it's molecular structure?
If you could send me this I would be really grateful!
Michael Gagula
- Australia, Victoria and Melbourne
---
2001
Michael,
Re nickel, why in the heck don't you go to a library, eh? They'll have all that info there.
You may have a local Assay Company in town. Try A.E.S. Chemex (Chemex were the largest Assayers in the world but an Oz Company bought them up). And I'm damn sure you don't know what 'assay' means ... so look it up!
They could give you, if you asked nicely, all the info you wanted. Oh, yes, INCO are the largest nickel producers in the world and no, nickel does N O T rust. Only iron and old soldiers rust away. Nickel is a beautiful alloying material and gives/imparts corrosion resistance and malleability.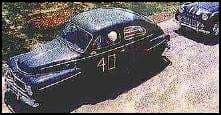 Freeman Newton [dec.]
White Rock, British Columbia, Canada

(It is our sad duty to advise that Freeman passed away
April 21, 2012. R.I.P. old friend).
---
2003
Hi,
I am an art student in Nigeria, I was in a research of stones for my sculpture work when stumbled into a stone called nickel. My question is this:-(1) What is nickel? (2) What is nickel? used for? (3) Where can nickel be found. (4) What are the whole things nickel is used for?.
JAMESBOY ONEL ONAIVI
- Edo state, Edo, Nigeria
---
2003
Nickel is an element, like gold or silver, meaning it is one of those pure substances that can't be separated into chemical constituents. It is a metal, and most of your questions can be answered by visiting the Nickel Development Institute's web page at www.nidi.org. Have fun!


Lee Gearhart
metallurgist - E. Aurora, New York