60,000 Q&A topics -- Education, Aloha, & Fun
topic 8633
Antique Finish for Brass
2001
I have Brass bed. 15 years old, no coatings, always polished. I want to find a way to darken the finish, preferably with an antique appearance. What are best approaches, or should I forget the whole idea?
Regards,
Bill Sharp
- Rockford, Illinois, USA
---
2001
Hi Bill,
Don't forget the whole idea! You could bring that brass bed to a plating shop, and if they have a big enough tank, they can oxidize it for you. Then you can clear coat it with a lacquer after that. Or you could get a hold of someone with a compressor and spray gun and get some dyed lacquer that simulates the antique finish you are looking for.
Good luck.
Jake Koch
G. J. Nikolas &Co.,Inc.

Bellwood, Illinois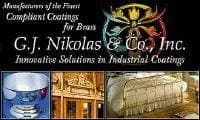 ---
2001
Hi Bill,
I am not sure if by a brass bed you mean a full brass bed or a cast iron one with removable brass pieces. If it is one with removable brass pieces you can put the pieces in a jar filled with sawdust and wet with an ammonia solution. Cloudy ammonia used to clean floors will work but will take longer. Wherever the sawdust touches the brass it will tarnish. Be careful with the ammonia solution, don't breathe in its harmful vapours, let touch skin (use protective equipment, Rubber Gloves [affil. link to product info on Amazon] etc), eyes ( goggles [affil. link to product info on Amazon]) etc.
Before you add the brass, wash it thoroughly in thinners to ensure that there is no coating of lacquer etc. as I would be surprised that it hasn't tarnished otherwise. Also make sure that it is not brass plated as this method will remove the plating. If it is your whole bed that is brass you are going to need a lot of sawdust ammonia and a mighty big container.
Good luck.
P.S. I spend heaps of time trying to remove tarnish from old brass beds.
Bruce Jackson
- NSW Australia