60,000 Q&A topics -- Education, Aloha, & Fun
topic 8575
Water Stain on Teak Wood
An ongoing discussion from 2001 through 2015 . . .
2001
Q. I have a teak wood table and it has a water mark on it I have read different ways to remove it. One being cigarette ashes mixed with vegetable oil or mayonnaise rub into the stain.... I also read to use very fine steel wool and rub the stain out.... I have had this stain for years and have polished the table many times over the years.... Would any of these remedies work on polished teak wood?
Thank you
Sally W
[last name deleted for privacy by Editor]
- Staten Island, New York
---
2001
Q. I have the same problem. My cat just knocked over a vase of flowers while I was out and came back to some of the table being white from the water mark. Did you have any luck with this?
Sandra C
[last name deleted for privacy by Editor]
- Sarnia, Ontario, Canada
---
2002
A. Water stains on teak furniture (or any kind of furniture - maple, cherry, oak, walnut). I have had to remove water stains, nail polish stains and even cigarette burns. First you have to get an assessment of how bad your damage really is -- minor, moderate or severe. Is it right in the middle where everyone can see, or is it over on a unlighted corner. Let's assume it is right in the middle, 5 inches across and everyone can see it. If it has a finish on it, then just assume the entire finish has to come off. You cannot refinish one little corner -- two different finishes never match. Ok, if the wood has no finish (bare wood then you are a little better off.) If you know what kind of finish the surface has on it, then you know what to replace it with (varnish, boiled Linseed Oil [affil. link to product info at Rockler], and Tung Oil [affil. link to product info on Amazon] are three examples)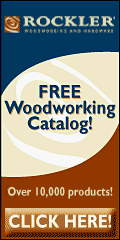 You strip the finish off down to bare wood. Now there is a bare surface with a stain on it. If the stain is light, try to sand it off with a 400$ grit or so. Try not to scratch the wood, but to work it in circles. If the wood was stained, there is going to be some discoloration. Right now just try to get the stain out -- don't worry about what's next. If the stain is deep and you can't sand it off, then bleach it off. Get wood bleach [affil. link to product info on Amazon] and bleach it out (I did this with nail polish stains) It might take a lot of bleach. Finally is it's gone. The whole surface is the same color -- but most of the color is gone (and bleached) good. Now smooth sand the entire surface using the 400# to 600# grit. Nice and easy. wipe the surface off. Maybe you could polish the surface with a little steel wool .. very very fine 0000 steel wool [affil. link to Rockler]. Rub it off. Get a tack cloth [affil. link to product info on Amazon] and tack cloth it every two or three sandings. When the surface looks very uniform -- if you want it darker then get a wood stain and put it on with gauze -- one nice coat then wipe it off with a cotton rag. If the color is not dark enough keep doing this until it is dark enough -- stain on, stain off. Ok now the surface is exactly what you wanted, but bare. The color is right, it is smooth as a baby's bottom, and the color and grain and texture is perfect. (if it was not smooth enough then rub it with rubbing compound or Pumice [affil. link to product info on Amazon] until it is exactly what you want (because the varnish is not gong to make the surface better).
When the bare surface is perfect, tack rag it off about four times. It has to be squeaky clean. Put the piece in a dust free room and put paper under it. Apply the new finish with gauze too -- just like the stain. No bubbles, no brushing, Very easy, very gently put on a very thin layer of whatever finish you chose to use. Let it dry -- real dry. Lightly sand or steel wool it off (pimples on it), tack rag it off twice, put another very thin and very easy coat on and let it dry. Keep doing this until there are four or five (or even ten coats)... each coat will dry with some pimples, and always take them off with a very fine sanding and tack rage them off. OK finally you have a ten layered finish and since it had pimples you light sanded and tacked it and now it needs to be shiny. So take the rubbing compound and your hand or a car polish bonnet and lightly buff it. It will get a lot nicer. Then use just a car polishing bonnet -- no rubbing compound. You now have a finish that is actually nicer and stronger than the original. I have done this many times including gun stocks I sold for $1,000. It gives a great finish.
Paul P
[last name deleted for privacy by Editor]
- San Diego, California
---
2005
A. Lay a dry tea towel over the white mark. Iron on the towel with an iron set on medium. Go over area a few times, lift towel. Repeat until mark is gone. I've done this to remove water stains from spilled vases and white steam stains on cupboard doors. It really does work.
Marilyn C
[last name deleted for privacy by Editor]
- Canada
---
2006

I just tried Marilyn C's suggestion (above) and ironed a white teak water stain with a tea towel and it worked very well. The stain is no longer obvious and probably wouldn't be noticed unless someone was intentionally looking for it. Certainly, it has not gone completely, but it was far quicker and simpler than refinishing the entire sideboard! Thank you very much.
Elspeth S
[last name deleted for privacy by Editor]
- London, UK
---
2007

Thank you, thank you, thank you. It worked! I put a white linen table napkin (tea towel) over the white water mark on my teak veneer rolltop desk and ironed it with the highest setting on my iron. After about 30 seconds the stain was gone! I'm not sure of the mechanics involved, but I believe the oil in the wood was drawn up through the water stain into the napkin which made the stain disappear.
Ralph Germann
- Honolulu, Hawaii
---
2007

We used Marilyn C's iron-and-towel trick on a finished oak table that had a water stain from an accident and it worked marvelously.
Nick Gully
- Denver, Colorado
---
2007

We have had an extendable solid-teak dining table for nearly 40 years, manufactured by a well-known Australian company, Parker Furniture. Recently, it became time to restore and we moved the table out to the garage where I gently rubbed the surface (along the grain) with very fine steel wool, dipped in methylated spirits, The table looked like new again but time prevented us sealing it with the chosen polyurethane varnish.

To my detriment, I left the table in the garage then Sydney experienced heavy rain with cyclonic winds recently. Roof condensation dripped onto the now unsealed teak table. I wiped off the water droplets ASAP but telltale white stains remained. I quickly Googled "water stain teak" and found this website.

Armed with Marilyn C's Canadian advice (lol), I tried the tea towel trick. However, the tea towel I used must have been too old -- it was linen, hard and thin. I then tried some more absorbent toweling and it worked a treat! As I slowly lifted the hot towel off each small splotch, the towel briefly gripped the affected area of the table -- a little like waxing of body hair. Thank you, Marilyn. As you said "It really does work".
Geoff STANWELL
- Sydney, Australia
---
2007

I had a twelve inch water stain on my oak table and the tea towel and iron worked in about 20 seconds. I couldn't believe my eyes and so happy it didn't need refinishing! The best tip ever!
Gloria Price
Drumheller, Alberta, Canada
---
January 3, 2008

Thank you very much Marilyn yet again, the tea-towel tip worked. I had 6 foot of steam iron stains from turning up curtains up(I even laid a towel on table to protect it but it still stained) thank you again you're a life saver
Fiona Shepherd
- Luton Beds, England
---
March 28, 2008

The iron-and-linen-napkins technique really works. Thanks much.
Terry Fisher
- Lincoln, Massachusetts
---
June 6, 2008

I have just used the Tea towel and iron method on my teak table. Brilliant result no mark left.
Celia Hamilton
- London, Britain
---
November 22, 2008

I tried the dishrag and iron trick! It was amazing. I had a ring left from a white ceramic gravy boat. In 10 seconds it was gone. I can not thank you enough, I was so upset. It looks like new! Amazing!
Melissa March
- Pawtucket, Rhode Island
---
---
2005
Q. My outdoor teak table had mildew on it, and I'm afraid I pressure hosed it. When it dried it was covered in white marks. So I oiled it, it hadn't previously been oiled. The oil took them away but when it dried they came back! I'm so upset to think I've ruined it please help me. Judy :(
Judy L
[last name deleted for privacy by Editor]
homeowner - London, England
---
2006
Q. Large water mark on teak buffet! Through an accident, a large (10 inch circle) area of an old oiled teakwood dining room buffet ended up with water damage......resulting in a milky white stain. I wiped up the water when discovered, but the ugly mark remains. HELP! How do I get the surface looking good again?
Elaine M
[last name deleted for privacy by Editor]
homeowner hobbyist - Orchard Park, New York
---
2006
Q. I have a round watermark in the middle of my oiled teak dining room table. I have been using Circa 1850 Tung oil but the watermark is still there. How can I get rid of the watermark?
Michael P
[last name deleted for privacy by Editor]
- Lake Forest, Illinois
---
2007
A. I had a water stain on my nice dining room table. My brother just puts anything on it. My kids are better then him, with not putting anything wet on the table. Anyway I used an S.O.S pad to scrub it out and it worked. No more water stain.
Rachel H
[last name deleted for privacy by Editor]
- Buffalo, New York
---
2007
Q. My husband spilled water and it ran down the front of our oak cupboards, leaving terrible white strips.

I could just cry. Is there a way for us to get the oak the same colour as the other aged, beautiful wood in my other cupboards. There is also some "swelling" on the top drawer.

What can we do? :(
Karen McCrea
Consumer - Picton, Ontario, Canada
---
2007
Q. Okay - I was dubious but I tried the iron trick. And while the spots are lighter so is the surrounding wood. I really don't want to refinish this piece as it is part of a set and it would look entirely different. So now what? Would fine steel wool help? How about a wood soap or teak oil? I do want to use this end table but it won't hold enough items to cover the spots. The piece came to me from a friend in a nursing home and while she certainly enjoyed the flowers that were placed on the table, I sure don't enjoy the spots. Any other ideas?
Lynn Reiter
- Sammamish, Washington
---
2007
Q. My cat knocked over a vase of flowers on my oak table and the water seeped through red place mats - so I not only have water stains but red water stains! HELP! What can I do?
Pauline Wilson
- Coleraine, N.Ireland, UK
---
2007
A. My wife had great success using her hair dryer for about an hour on water stain on teak table!
Ed Bacon
- Toronto, Ontario, Canada
---
January 1, 2010

I had a white stain on my teak table caused by a wet towel. I dried it with an hair dryer and it completely disappeared in less than 5 minutes! Thanks for the trick!
Poulette Désespérée
- Montreal, QC, Canada
---
! Hi. The hair dryer and the iron & towel trick are actually the same thing. What causes most white stains is that water mixes with the oil or lacquer of the finish and forms a stable white emulsion. The oil binds onto the water tightly enough that it doesn't evaporate. But if you raise the temperature enough with a hair dryer or iron, you can drive the water out of the emulsion, restoring a transparent oil or lacquer finish again. Just be patient and allow time for the water vapor to leave, because you don't want to make things worse by burning the finish.
Regards,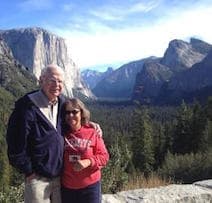 Ted Mooney, P.E. RET
finishing.com - Pine Beach, New Jersey
Aloha -- an idea worth spreading
---
---
January 6, 2008
Q. For the Christmas holidays we put a ceramic bowl filled with chocolate on our teak hutch. When we removed the bowl we noticed a black ring. Was this water that was absorbed into the ceramic from washing and than leached out onto the teak wood? We will try the Marilyn method with a tea towel/iron and post the result. We also had the misfortune of a cat getting up on the teak table when we were away on holidays and to our surprise when we returned we found cat vomit on the table. Any suggestions as to the removal of vomit, tea towel/iron trick?

Any help would be appreciated

Thanks
Jo and Harry
Harry Schachtschneider
- Hamilton, Ontario, Canada
---
April 9, 2008
Q. Hi Jo and Harry

Did you manage to remove the cat vomit stain? Our cat's done the same on our polished oak dining table!

Thanks,

Nigel
Nigel Howarth
- Erimi, Cyprus (eastern Mediterranean)
---
March 31, 2008
Q. A candle was set on my outdoor teak table. Alas wax on table. Any suggestions for removal of wax before I oil the table. Thanks
J D Descoteaux
Gardener - San Rafael, California
---
June 15, 2008
Q. I have a SOLID teak table (from Denmark) - Had a container with flowers sitting on 2 sand coasters with cork protectors on bottom - container leaked & I now have a dark circle stain on my beautiful table - I tried very fine steel with pure teak oil but it did not remove the stain. I am apprehensive about letting a furniture refinisher take an oxy-bleach to remove the stain - any suggestions that have worked?
Marnie Staub
- Calgary, Alberta, Canada
---
June 15, 2008
Q. I have a teak table which has a large dark stain in the middle. I have used Teak Oil on the table to try to make it look a bit better. When I applied the Teak Oil (and left it for a few hours), the table has a beautiful sheen, but the area where the stain is seems to absorb the oil and has a matte look.

The other posts in this forum mention white stains. Is there any easy way to deal with dark stains like the one on my table?

Any suggestions would be gratefully received.
Heidi Szymaszek
- Buffalo, New York
---
June 30, 2008
Q. We have water stains on top of thin Oak membrane on fibre board.

I wonder if the hot iron and tea towel method would lift the membrane.
We have used an oil finish for lustre.

Have you had any experience with this.
Donald Ruggles
- Nanaimo, BC, Canada
---
July 28, 2008
Q. I have a sturdy, perfectly sized teak table that is almost 30 years old. We've been using it as a kitchen table and there is no finish left on it -- just a little stickiness. Our new kitchen is solid cherry, and our floors are cherry and maple. The teak isn't THAT far off the cherry.

I'm wondering whether I can sand the top and apply a cherry stain to even the scratches and wear, and then seal it.

Thanks for any help you can give.
Deborah Savage
hobbyist - Columbia, Connecticut
---
August 4, 2008
Q. I too have dark rings on a few pieces of teak furniture that I would love to get out. I hesitate bleaching the teak and refinishing it - it seems more damaging than restorative - but hey, I'm not a wood worker. Does anyone have any suggestions that work for them?
Thank you.
Deborah Lane
- St. Paul, Minnesota
---
October 2, 2008
Q. Black place mats were on my oak dining table for months before I noticed. I had to move suddenly after a heart attack, so the stains have not been dealt with for more than two years! I tried Olde English lemon oil and it did not get stains out even though I rubbed with a toothbrush for hours and put many coats of Lemon Oil on the stains. Any ideas about how to get them out?
Melanie McDowell
seller of restored furniture - Houston, Texas
---
November 3, 2008
Q. I have used the iron and napkin way on my wooden table only I did it too much and it has gone all dry and bumpy please help :( !
Megan Quinn
- Preston, England, United Kingdom
---
affil. link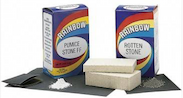 Pumice Stone & Rotten Stone
December 29, 2008
On e-bay, purchased Herman Miller coffee table in perfect condition has been transformed into purrrrfectly stained. Cats knocked over a water glass. Now we have prominent, front-and-center white water marks. I am about to try the tea-towel trick from the lady in Canada. My mother used to have a box of finely ground pumice called "rotten-stone" which she used with lemon oil but I think it was only a temporary fix. Stains always reappeared. But the pumice is a gentler alternative to steel wool!
M.E. Landstadt
- West Orange, New Jersey
---
December 29, 2008

Hi, I've just used the iron and tea towel method to remove a stain from my dark stained coffee table and I'm pleased to say It worked and the stain has gone. Thanks
Elaine Smith
- Fareham, UK
---
January 29, 2009

I hate when the internet is truly useful. I tried the trick of white towel with steam iron on a table I was almost ready to sand off completely (Teak). I had already sanded with 2400 grit and refinished by the way, but after the finish was applied, the stain showed through. Well, the towel and iron trick worked wonderfully. Can't see where the stain was at all.
Thanks !
Dave Miller
- Lake Oswego, Oregon
---
May 29, 2009

My Sister needed to store her "Queen Style"coffee table. She said I could use it, but make sure coasters are used at all times. Well I was away for two weeks, while someone stayed at my house.
When I came back, I thought I'd die. White stains on the table. Looked like Heat stains. Of course "no one was guilty". I tried the Iron & Tea towel method. It worked 95%. You don't notice it unless your looking for it. Thank You Thank You, whoever discovered that method.
Lynda
Lynda Morrissey
- Moncton, N.B., Canada


---
September 22, 2009

Thank you so much Marilyn C. The tea towel and iron idea worked perfectly!
Kimberley Richards
- Stafford, Staffordshire, England
---
September 25, 2009

Thank you to all who posted the tips on using a tea towel & iron on stains. I found 3 spots where the cat had vomited on my Amish made Oak dining room table. I caught it within a few hours, but I thought the damage had been done...3 large cloudy white stains. Scrubbing & enzyme solution didn't work. I went at it with a dry iron & a tea towel folded several times. The white shadows are gone! If you get down at eye level you can kind of still see the outlines, but no one will do that so I am happy! Thank you. Thank you!
Sara Jennings
- Edgerton, Wisconsin
---
March 27, 2010

The iron and the tea towel trick worked! My son laid a damp washcloth on an end table and I was left with an ugly white spot. I tried the iron and tea towel method and, after just a few minutes...no more white mark! It doesn't take long, so keep your eye on it. Thank you soooo much!
Claire Bennett
- Hazleton, Pennsylvania, USA
---
April 25, 2010

Yes! The hot iron and tea towel method worked extremely well on a solid oak desk. Two milky white dampness spots disappeared after only a few minutes of ironing the marks with the iron set to medium, and using the tea towel. Thank you very much to the lady from Canada, who provided the tip.
Gerrie Moolman
- Sandton, Gauteng, South Africa
---
May 11, 2010
A. I had several water stains on my oak table, much like some of the other posters. I used a heat gun, on the low setting, keeping it about 2" above the spot and within 5-10 seconds, the water marks disappeared. Rubbed a little olive oil on the area with a paper towel and everything looks new.
Dave Bruce
Paradise, Newfoundland
---
July 19, 2010

OH MY GOSH! I was amazed that this works with the iron and tea towel! My spots disappeared after about 30-40 seconds. Thanks to the lady in Canada! Try this before you refinish you wood tables.
Pamela Schalk
- Choctaw, Oklahoma
---
July 31, 2010

This is the first week in our new house, and steam from the top of a rice cooker left a huge white water mark on our black stained kitchen cabinets. We were in a panic, until finding this post. We tried mayonnaise overnight with no luck, and a hair dryer didn't make a dent in it either, but the iron and cloth trick did the job in minutes and there's no trace of a stain. Many thanks for me and my wife!
Terry Greenlaw
- Cumming, Georgia
---
October 15, 2010

I tried the Towel and Iron suggestion on my teak wood table to remove white water stains. It worked beautifully. The table looks practically brand new. Don't have to hide it under a table cloth any longer! Just took a Steam Iron set on medium, gently applied pressure on a white cotton diaper back and forth across the water stains and they just disappeared.
Don Bistline
- SeaTac, Washington USA
---
January 12, 2009
Q. We had temporarily put our rabbit in her cage on top of newspapers on top of our Scan-Design teak laminate table. She urinated, which sprayed out of the cage, and soaked through the table. We didn't discover this until days later. It caused a very large white area and some of the newspaper stuck to it, so I suspect that the urine partially dissolved the finish, which resolidified and glued the newspaper.

Can this be fixed using techniques similar to water damage (hot iron through tea towel, strip, bleach, refinish)or does something like this require different treatment?

Thanks!
Brandt
Brandt Wilson
homeowner - Portland, Oregon
---
February 3, 2009
Q. Hi, I bought a teak credenza a month ago and I put a table runner on it and some plants. Most of the plants I had set on wooden hot plates but two of them I put directly on the table runner. I just removed everything to clean again and the two plants without hot plates under them left big white spots. I cleaned the white spots off and then applied teak oil hoping it would clean up now it is dark circles left on the wood. Some black came off when applying the teak oil. So, next I tried the iron and towel technique and applied teak oil. The dark spots are still there. Any ideas? I'm just sick - I've only had this beautiful piece for a month and feel like I've ruined it!
The strange thing about it is the table runner itself had no mold or black spots on it but the teak wood did when we removed the table runner to do regular cleaning.
Mary Freeman
- Auburn, Washington
---
March 8, 2009
Q. I spilled some bleach on my teak table which has left streaks of lighter wood. What would you suggest? The wood was previously only oiled.
Tom McMaster
- Minneapolis, Minnesota
---
April 3, 2009
Q. I have an oiled teak dining table that I'd like to use as a desk. However I'm afraid that a computer or other items might scratch the wood and I'm thinking of laying a sheet of glass over the table. Will this harm the wood at all?
Doug Sys
buyer - Richmond, British Columbia, Canada
---
October 28, 2009
Q. I was recently given an old teak table. A very bad staining job was done on it long ago, and the recent owner included a tablecloth. The stain is ugly and sticky. We tried sanding it, but it is so sticky the stain just clogs the sandpaper. Is there a way to remove a terrible stain job?
Jess Hunt
- Didsbury, Alberta, Canada
---
November 2, 2009
Q. I am in the process of refinishing a teak or rosewood table with two leaves. I washed the table down real good, and then sanded with 125 sandpaper. I finished with 220 grit and I'm on my 4th coat of teak oil. The finish is still tacky after 4 days! I'm also not sure if the oil I'm using is really going to protect it for years to come. I'm used to lacquers and varnish. Should I apply a polyurethane top coat to protect it?
Dale Casler
- White Plains, Maryland
---
April 25, 2010

Yes! The hot iron and tea towel method worked extremely well on a solid oak desk. Two milky white dampness spots disappeared after only a few minutes of ironing the marks with the iron set to medium, and using the tea towel. Thank you very much to the lady from Canada, who provided the tip.
Gerrie Moolman
- Sandton, Gauteng, South Africa
---
May 11, 2010
! I had several water stains on my oak table, much like some of the other posters. I used a heat gun, on the low setting, keeping it about 2" above the spot and within 5-10 seconds, the water marks disappeared. Rubbed a little olive oil on the area with a paper towel and everything looks new.
Dave Bruce
- Paradise, Newfoundland
---
October 30, 2010
Q. Different kind of water stain. My roof leaked into the walls, and water saturated the carpet next to the window where my teak veneer cabinet stands. The cabinet leached up the water leaving a dark stain as well as a broken, rough surface on the veneer. Not your simple water ring. The cabinet is part of a set of three wall units. Any hope? Any expert teak repair out there?
maia cavelli
- St. Paul, Minnesota, USA
---
December 8, 2010
Q. My new Teak indoor table has oily food stains and water marks on it. How can you protect the teak to stop this from happening? Any suggestions would be great.
Andrew Peck
homeowner - Melbourne, VIC, Australia
---
December 10, 2010
Q. Hi, I have been given an old veneer table that has many marks on the top. Some are from an iron, cups and just worn out. Could someone help me in how to restore this piece of furniture...
Lee
Lee Moody
home restorer -
Logan, Qld, Australia
---
January 4, 2011
Q. What works to remove dark water spots on indoor teak furniture, vintage-early 60's. Iron and tea towel did not work.
Helen Bartlett
- San Antonio, Texas, USA
---
May 10, 2012
Q. The same has happened to me with the iron/towel method. Please let me know, if you found how to fix it. Thank you.
Lenik Novak
- Dorval, Quebec, Canada
---
January 6, 2011
A. Solutions to stains on wood furniture surfaces:
There are two main types of stain. One is in the surface, the other is in the wood.
The lighter color, or whitish ones are usually in the surface (coating). The white is moisture trapped in the film coating. The reason the iron and cloth works is that the heat from the iron "opens" up the molecular structure of the finish and the moisture is drawn up into the cloth. The damage varies with the kind of exposure and the age and condition of the finish.
The dark color stain is usually in the wood. Either there is no finish or the moisture got through the finish and to the wood. Minerals in the wood react with moisture to make a stain. This is a more difficult problem to solve. Most of the time you will have to remove finish from the area to treat the wood directly (bleach). Oxalic acid obtained from the paint store will often do the trick. Follow the directions on the box and you may have to repeat the process. If this does not work, there is a stronger two- part bleach that can be used. However, unless you are a skilled handyman, this process, and the follow up finishing, may best be left to a professional.
Frank Macgruer
restorations - Austerlitz, New York, USA
---
July 20, 2011

We too had a beautiful water stain and some white marks from a table cloth that had been ironed directly on our teak dining room table. Initially, I was a bit reluctant to try the white cloth and iron remedy but only because I wasn't sure if I should use the steam setting on the iron or not. Well, I decided against using steam and put my iron on the cotton setting. I placed a clean white bar towel over the individual stain and held the iron on the towel for 15 seconds. I then removed the towel and wiped away all moisture from the spot. For some stains, I actually had to do it several times but it removed the stains/marks. This tip worked beautifully and, now, the table looks like new. The set is approximately 40 years old and belonged to my husband's parents. You can imagine how thrilled we all are. Thank you Marilyn C. (in Canada) for posting this tip. The table looks amazing!
Donna F.
- North Saanich, B.C. CANADA
---
August 5, 2011

Oh thank you for the "iron & (in my case a hand) towel" tip for getting rid of white water marks on a teak table. I noticed the large marks when removing a temporary tablecloth shortly after my grandchildren had left. My wife was out at the time and I dreaded the scene when she returned and saw the "damage" to her prized table.
I used the iron "trick" and it worked wonderfully!!
I even tried it on a smaller water mark that had been on the table for several years. It removed it as well!!
Now I'm a hero!!
Thanks again.
Bob Danks
- Corfe Mullen, Dorset, England
---
November 4, 2011
Q. I have read all the posts, and am still not sure which cure to use, I have a 1950's teak hostess trolley, I went away for the night and my teenagers through a party, so now I have a black bottle/ring mark on its top, the trolley has no vanish on it its only ever been oiled. And I'm not sure what cursed it, is it a water mark or drinks mark, any suggestions to what quite to do to remove this I would be very grateful.
Jane Russell
- South Yorkshire, England
---
April 25, 2012

OMG!!! I am so happy that I came across this site when I googled "water stains on my teak furniture".

I immediately turned on the iron and got a cotton men's handkerchief. Voila! Stain is now gone from my Scandinavian teak dining table.

Thanks!
Laura Tubbs
- Traverse City, Michigan, USA
---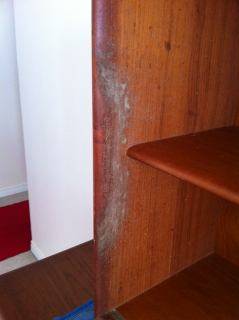 May 5, 2012
Q. I have a set of beautiful indoor teak furniture (mostly veneer). It was stored in my garage for three years and now has mould (or mildew) on all pieces.
Most of the mould is white, but one particular piece has greyish-brown mould. (I wiped that one off with a damp cloth and the mould came off brown. Note: normally wiping it would get no stain.) I looked up online how to remove it but got conflicting answers. One said vinegar then a scotch brite with baking soda, another said 1:4 bleach with steel or bronze wool. I also saw commercial two-in-one or two-part cleaners. Help! I don't want to ruin my furniture! How do I remove the mould and make it look new again?
Ann-Louise Winter
- Toronto, Ontario, Canada
---
May 30, 2012

Tried removing the water mark off our teak table using the hot iron and cotton cloth (an old T-Shirt) Works perfectly, just as mentioned.

Thank you
Jens Stratenwerth
- Bryanston, South Africa
---
September 20, 2012
Q. My cleaner used a spray wax polish on my teak bedroom furniture. Stupidly it took me some time to realise what she had done. What process do I use before applying the correct Danish teak oil?
Rosemary Waller
- Ipswich Suffolk UK
---
October 7, 2013
Q. Teak veneer query again, seems a number of BC folks bought it during the 70's. We have a teak veneer table top with solid teak legs, same on chairs and a hutch. Recently our cat urinated on the table legs and on the side of the hutch. The hot iron and towel technique appears to work for white stains, has anyone experience with removing brown urine spotting prior to refinishing with products like Briwax?
Gerry Warren
- North Saanich, BC, Canada
---
February 19, 2014
A. White marks on wood = cotton cloth and ironing
Black marks = oxalic acid. (Barkeepers Friend [affil. link to product info on Amazon] works great). Make a paste, apply, let dry. Wipe off. Redo as necessary. You'll need to refinish afterwards, but it works like a charm.
Heather Carr
- Ontario, Canada
---
May 23, 2014
A. Regarding removing water stains on TEAK WOOD furniture, as well as putting moisture back into the wood. Here is what you do.

You do not sand or "refinish" Teak Wood or apply any lacquer. Teak wood is natural.

Purchase Homax White Ring Removal cloths. Clean wood furniture with a good dusting first and follow the cleaning instructions on the Homax package. I cleaned my entire Teak Wood buffet with the Homax. Most of the stains and minor scratches came out.

Also purchase BOILED LINSEED OIL and follow the directions. I used old white tee shirts to apply the oil and another to wipe off excess. Let the linseed oil stay on your wood for 10-15 minutes and then remove excess with clean cotton cloth.

You can use this process on all of your wood products whether the wood is natural like Teak Wood or has a lacquered surface. My 50 yr old contemporary Teak Wood buffet looks like brand new. I will repeat the cleaning in about a month since I never cleaned it properly in the past.

Hope this helps everyone!
Patricia Phillip
1952 - Irvine, California USA
---
December 16, 2014

Wind blew vase off Parker teak tea table and stained it. Followed the tea towel method and it improved a lot. Decided to put some oil/polish on the table when the wood was warm when the pores of the wood were more dilated. This seemed to be a good idea. Will iron table again to try and even it up. Thanks for the tip.
Andrew Lee
- Sydney, NSW, Australia
---
December 23, 2014
OMG! C'S suggestion of the Iron actually works. I have a Teak Table of my mother's which is an original 1970's G Plan. I had a pot plant on it as it has a tile strip down the centre and the plant got inadvertently moved onto the wood part of the table. It left a huge white water mark. Not any more. So grateful for the advice. Many thanks. Alison
Alison Bennett
- Bristol England
---
January 2015

Hi. We have another thread here where hundreds of readers reported success with the iron and towel, or a hairdryer. What appears to happen is that the lacquer has absorbed a little bit of the water, which causes it to blush or turn into a white oil & water suspension like mayonnaise. And it holds that water at room temperature indefinitely. But get it warm enough and the water is driven out, and the finish once again becomes lacquer rather than a water & oil suspension, so the discoloration is pretty much gone. Doesn't work every single time 100% for everybody, but it darn well works great for most.
Regards,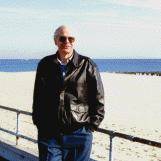 Ted Mooney, P.E.
finishing.com - Pine Beach, New Jersey
Striving to live Aloha
---
April 14, 2015
Q. I have a mark on a teak table top caused by leaking battery acid. It is approximately 2" x 3" in size. Any ideas on how I can repair this?
June Blackburn
- Kingston, Ontario, Canada
---
October 25, 2015

I have just tried Marilyn C's answer using a hand towel and iron. It really does work although I did it several times before the white stain completly disappeared.
Janet Torrens
- Ontario, Canada