World's #1 finishing resource since 1989
No login needed: Chime right in
topic 8571
Problem Of High Pressure Flexible Hoses
2001
We have a repeating problem with high pressure flexible hoses which we are using as connectors at the feed and brine sides of reverse osmosis trains. We are experiencing rupture on some of these hoses which might cause big violation on the safety of the working staff, by the way our feed water is sea water and the applied pressure 60-80 bar, so anybody have a similar case or advise/suggestion on this regard to correct this problem will be highly appreciated.
Abdulsalam Al-Mobayed
Saline Water Conversion Corporation - Al-Jubail - Saudi Arabia
---
2001
Hi Abdusalam !
You gave a pressure but you didn't advise the diameter of the flexible hoses ... so info is lacking.
For very small diameters, maybe up to l-l/2" or 2" there is the nylon braided clear vinyl tubing.
Firstly, may I suggest you try one of the search stations on the internet. I am sure you will find many suppliers.
One Company, whose name escapes me, provides stainless steel helix strapping (i.e., reinforcing) around flexible tubing. Aircraft quality! The crux would be the connection at the fitting, wouldn't it? You also didn't indicate just where you were getting failure ... at the connectors? ... along the piping? ... UV attack of the piping itself ?
Parker-Hannefin comes to mind as does Goodall Rubber. Both Companies can, I'm sure, provide flex. high pressure tubing.
Sorry that I can't give you more data. ... but I trust that your main 80 psi lines are PVC and not stainless!
Regards,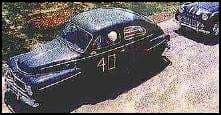 Freeman Newton [dec.]
White Rock, British Columbia, Canada

(It is our sad duty to advise that Freeman passed away
April 21, 2012. R.I.P. old friend).