World's #1 finishing resource since 1989
No login needed: Chime right in
topic 8544
SS Welded Joint Failure Due to Acid Attack
2001
I am facing the problem of failure of pressure vessel(Stainless Steel), due to acid attack(i.e., HCl, HNO3, H2SO4), at the SS welded joints. To circumvent the problem, is it possible to use any coating? What type of coatings are available and are there any Indian suppliers?
Dayanand Bilgi
Indian Institute of Technology Kanpur - Kanpur, UP, India
---
2001
Dayanand !
Your 'mix' sounds suspiciously like aqua regia mixed with Sulphuric ... but I don't know the concentrations.
In fact, on the face of it, I would perhaps never even considered a stainless ... maybe one of the more acid resistant types like Carpenter 20, Hastelloy C. Maybe, probably not. 'tis a question, too, of temperature and pressure.
The pundits will soon come back to inquire if you passivated the welds, if you used 3l6 s.s., if you used the right weld rod.
But my query, i.e., suggestion of sorts, is what about overwelding the existing weld beads with a pure Nickel rod?
It may not be as structural strong as the s.s. weld bead material but, dammit, it's homogenous throughout and has no chrome which would be attacked by the reducing acids of HCl and Sulphuric AND it has no ferric content, either.
The only coating of preference would, I think, be Kynar or PVDF to use the non-generic name. But will it bond to the s.s? I don't know.
Mind you, all things being reasonable (i.e., temperatures and pressures) I'd have used PVC suitably armoured with fibreglass to give structural integrity but there are other plastics which would accept higher temperatures than PVC:FRP.
Cheers !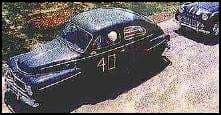 Freeman Newton [dec.]
White Rock, British Columbia, Canada

(It is our sad duty to advise that Freeman passed away
April 21, 2012. R.I.P. old friend).

---
2001
Hi,
I have been welding stainless for 30 years in the food processing industry. I have seen the problem you are talking about. I installed a stainless type 316 system at Heinz, for the conveyance of vinegar. Some of the welds were done with an orbital welder, the others were done by hand. Within 3 months, the welds began to fail. They looked as though there were worm holes in the metal. We had the pipe analyzed, and found that the heat affected zone of the weld was changed. The chrome content in these areas was less than un-welded pipe.
Manufacturing processes today allow for a very precise composition of the metal. so, when it is welded, some is lost. This effectively lowers the grade of the base metal. We also found that there was a certain amount of electrolysis going on.
You really don't want to hear this, but in order to fix the problem, we had to use Titanium. Very expensive! This, along with cathodic protection, and no more failures. It was a very big deal. Heinz was trying to prove that we welded the pipe wrong. This was not the case. All welds were purged with Argon, fittings were skin tacked only, there was 100% penetration of the finished weld, and there was no sugaring anywhere. We even tried adding filler rod to the welds, trying to put back into the base metal some of the nickel that was lost during welding. It did not help.
You may want to check if the filler wire used during the construction of the tank was the same or better grade as the tank wall. Never use a filler rod that degrades the base metal. If the tank is made of 316 Stainless, the filler wire must be at least 316. Manufacturers like to use 308 or 309 because of the cost difference.
Good Luck,
Wayne Mills
- Stockton, California, USA