60,000 Q&A topics -- Education, Aloha, & Fun
topic 8517
Phosphorus Content of Post-Plate Samples
2001
We are currently trying to find the best method for post-plate sample analysis. We are running high phosphorus electroless nickel and want to find the phosphorus content after plating. I am new to this business but I've heard there is a method for doing this. I would appreciate some advice on this one.
Thank you.
Kristine Clark
- Tempe, Arizona, USA
---
2001
Wet chemical analysis using ICP (inductively coupled plasm) spectrometry can give you a good phosphorus number. We have used energy dispersive x-ray spectrometry for nondestructive testing and small parts. X-ray fluorescence may also work if you can get good standards.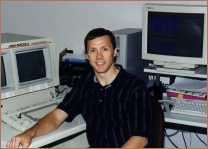 Larry Hanke
Minneapolis, Minnesota
adv.