60,000 Q&A topics -- Education, Aloha, & Fun
topic 8506
Removing Scale from Stainless Steel
2001
I am looking for a pickling solution to clean up the scale from stainless steel. I already tried Nitric acid, Hydrochloride acid. But it doesn't remove all the scale. I also know the Hydrofluoric acid can do the job, but because this chemical is too toxic and corrosive, so my company will not allow me to use it. If anyone knows any better ways or any other pickling solution, please let me know.
Thank you very much.
Albert Tsang
- England, U.K.
---
2001
Hi Albert ,
Yes, I know how your company feels about Hydrofluoric Acid, it is a real problem to handle but if you use Ammonium Bifluoride in an acid solution you achieve the same results as HF but without the handling problems. Try the following mixture
- 18% by volume of 70% Nitric, 6% by weight of Ammonium Bifluoride and 2% by Volume Hydrochloric Acid.
You may need about 20 minutes immersion at room temperature of 15 °C. The etch time decreases with temperature & the reaction is mildly exothermic.
This is the technology of choice for treating S/S pipe manufactured by welding techniques.
Regards

John Tenison - Woods
- Victoria Australia
---
2001
Another option is approx. 400 g/l sulphuric acid used anodically at 6V for approx. 10 secs. The current drawn is heavy so make sure all of the wiring and contacts are big.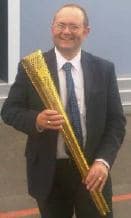 Martin Trigg-Hogarth
surface treatment shop - Stroud, Glos, England