60,000 Q&A topics -- Education, Aloha, & Fun
topic 8451
Vinyl Siding
2001
We're wanting to either paint or vinyl the siding of our home. Do you recommend liquid vinyl or vinyl siding instead of painting?
Mary Currie
- Alpharetta, GA, USA
---
2001
Mary,
'tis a question of ease and costs, isn't it?
If you have a nice flat exterior, painting will be far less expensive,... and very quick if you spray it on.
If you use vinyl siding, find out what guarantee you get with it re life, sic. U.V. life expectancy. Certainly, being solid vinyl it should greatly outlast any thin painted coating. Most plastics, virtually ALL, are attacked by U.V. which is why you'd see always, ALWAYS coloured PVC never, ever the pure straw coloured natural PVC. Ditto for ABS and most, but not all, plastics. And this sure DOES apply, perhaps more so, to paints.
Proper U.V. absorbers cost quite a few $$$ ... which is why some Companies use ordinary carbon black for piping, ie. ABS and Polyethylene.
Your vinyl paint sounds, um, 'nice'. VINYL! But what percentage of polyvinylchloride does it really have?
Being horribly biased (40 odd years in thermoplastics) and being very lazy, all things being equal, I'd opt for vinyl siding.
Cheers !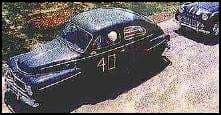 Freeman Newton [dec.]
White Rock, British Columbia, Canada

(It is our sad duty to advise that Freeman passed away
April 21, 2012. R.I.P. old friend).