60,000 Q&A topics -- Education, Aloha, & Fun
topic 8426
Cleaning - Refinishing Brass Hinges - Locks - Corners on a Travelling Trunk
2001
I have an old luggage travelling trunk that I am trying to refinish. The corners, locks and hinges look to be brass or brass plated. When trying to clean this brass which has about 40 years of oxidation on it, with Brasso, the yellow colour is removed and a silvery colour is left behind with a faint hint of yellow in certain spots. What am I dealing with? Is this supposed to happen? Am I damaging this item?
Thanks for your help.
Jeff Klassen
- Mississauga, ON, Canada
---
2001
Hi Jeff,
Sounds like the Brasso [affil. link to product info on Amazon] worked a little too well. Unless you were really going at it on those hinges (enough to strip brass plating), then most likely you have removed a finish that simulated brass on the white metal. If you can pull the hinges off the trunk, you can get a hold of a plating shop, or you can follow the below link an send me an email, I can tell you where to get an aerosol can of dyed lacquer.
Good luck.
Jake Koch
G. J. Nikolas &Co.,Inc.

Bellwood, Illinois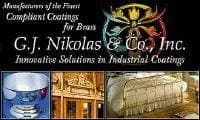 ---
2001
JEFF,
SEE IF YOUR ITEMS ARE SOLID BRASS OR PLATED, BY USING A MAGNET. SEE IF THEY ARE ATTRACTED TO THE MAGNET. IF THEY ARE, THEY ARE PLATED. YOU COULD NOT HAVE RUINED THEM IS BAD A SHAPE AS WHAT THEY WHERE. THE FAINT YELLOW THAT IS LEFT, IS PROBABLY THE BRASS PLATING THAT DIDN'T DETERIORATE.
I SUGGEST IF YOU WANT TO RESTORE THEM TO their FORMER GLORY,TAKE THE PIECES TO A PROFESSIONAL PLATING SHOP. I RESTORED AND OLD PIECE OF FURNITURE AND RAN INTO THE SAME PROBLEMS ie. HINGES. IT WASN'T PROHIBITIVELY EXPENSIVE. THE HINGES LOOK GREAT TODAY BEING DONE OVER 15 YEARS AGO. I'M SURE YOUR TRYING TO DO A GREAT RESTORATION PROJECT. SPEND THE MONEY YOU WILL NEVER REGRET IT.
KEVIN FRIES
- COLUMBIA, Illinois, USA