World's #1 finishing resource since 1989
No login needed: Chime right in
topic 8416
Copper Removal from Acid Etch
2001
Our processors recently etch the copper bars from our anodize tank to clean them instead of the normal scrubbing. This has caused a copper contamination problem and I am seeing some copper coming out on the parts that are acid etched, specifically the 7075 series alloys. Is there a filter or filtration unit that will remove this? Is there anyway of solving this problem without remaking the bath? This bath is less than one year old, with minimal a workload run through it.
Benjamin Curto
- Ponderay, Idaho, USA
---
2001
At first glance, this looks like a case for ion-exchange treatment. However, to my knowledge, acid etches are mixtures of different acids (some containing chromic acid) and this may complicate the problem. In my opinion, it is best to change the solution and never to do the same thing again.
Dado Macapagal
- Toronto, Ontario
---
2001
Hind site is always 20/20. But without sounding like a wise guy, removing copper from the anodizing line is an idea who's time has come. Aluminum will work as well and has less draw backs. Replace any copper around or near the anodizing line. Also turn in your lead if you use it. Once your with Aluminum you will not look back!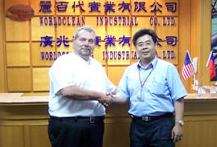 Drew Nosti, CEF
Anodize USA

Ladson, South Carolina

---
2001
I will back Drew up on that comment. We recently rebuilt our anodize tank (some 25 years + of use, it was due for a complete tear down and rebuild) well in the process of doing this we increased its depth. I also wanted to switch away from lead cathodes and copper buss bar at the same time, but my thoughts were shot down.
I guess its easy to say, but hard to convince the "old schoolers" in some cases that there ARE alternatives that DO work better than their old school techniques. In this case, its time tested and proven to be more reliable, and less troublesome than the above mentioned method of lead/copper around the anodize tank.
By all means, invest whatever small amount of money is necessary, the paybacks to you will be almost immediate, and the less headaches we all have to deal with, the better right?
Matthew Stiltner
plating shop - Toledo, Ohio