World's #1 finishing resource since 1989
No login needed: Chime right in
topic 8369
Pipe (Polypropylene)
2001
HI
I HAVE A QUESTION PLEASE ANSWER. PIPE MADE OF POLYPROPYLENE (NOVOLEN 5416) CAN PASS THIS FLUID?
1)PETROL
2)GAS OIL
3)H2SO4
4)HCL
5)WHITE OIL
6)PERFORAL
7)PHENOL (ME.K)
CAN PIPE (POLYPROPYLENE)WORK WITH THIS FLUID?
THANKS
MEHDI HEYDARNEZHAD
- MASHAD-IRAN
---
2001
Hello Mehdi,
Firstly, the resistance of any plastic pipe is dependent on the temperature, the pressure along with the percentage of acids of chemicals. Other factors are UV resistance, water hammer and allowance for thermal expansion which in PP's case is quite high!
1 & 2. Petrol & gasoline are synonymous. nbg.
3. H2S04 OK to 80% @ RT
4. HCl. OK to 150 °F
5. White oil. I don't know what that is. Sounds suspiciously like it is nbg. If you mean White Liquor, it is probably nbg.
6. PERFORAL. No listing.
7. PHENOL OK @ RT.
Secondly, never ever believe any one corrosion chart. Always double check. Thirdly, never believe a chemist! Well, in my experience I have been lead down the path by chief chemists so that if someone says, 'ah, it's chemical X', I say to myself, 'Oh yea?' ... and try to find out more about the process so that they will not have a problem.
Re Sulphuric, use PVC. It's cheaper. It's easier to join. It's UV resistant. It can take full commercial Sulphuric, ie. 93% @ RT.... however at that strength, cemented joints should be backwelded!
I hope that this helps you ... mind you, if you wanted a plastic pipe to accept ALL those chemicals, PVDF might do the job but the weldable fluorocarbons would ... all for a heck of a price, too!
Cheers !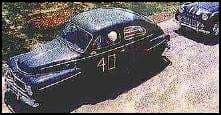 Freeman Newton [dec.]
White Rock, British Columbia, Canada

(It is our sad duty to advise that Freeman passed away
April 21, 2012. R.I.P. old friend).

---
August 3, 2010
What happens to the polypropylene material while it is in petrol & after taken it from petrol for 01 to 02 Hrs (i.e., dimensionally )
Raveen Jha
buyer, product designer - Delhi, India