60,000 Q&A topics -- Education, Aloha, & Fun
topic 8367
Iodine Corrosion - Spillage in Booth of Car
2001
I spilled some iodine (milking machine detergent) in the booth of my car - how do I stop it corroding - should I add some sort of potassium
Tim McCarthy
- Sligo, Ireland
---
2001
Tim,
May I suggest you visit Boots or any chemist (drug stores we call them over here) for some advice.
Whatever you do, PLEASE DON'T use any ammonia !
Ammonia and, well, iodine in crystal form would even give an IRA man something to think about! When dry, will explode even if caressed lightly with a feather.
Cheers !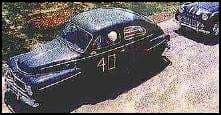 Freeman Newton [dec.]
White Rock, British Columbia, Canada

(It is our sad duty to advise that Freeman passed away
April 21, 2012. R.I.P. old friend).
adv.