60,000 Q&A topics -- Education, Aloha, & Fun
topic 8334
Silver Color on Aluminium (Impossibile)!
2001
I don't believe? I was ask many times how I can get silver color on aluminium tube nobody knows? (See letters # 8071.) I have china aluminium chair in my hands and look like silver. How I can get silver color in my chair. I have anodising line in my little job story but I don't now hemik or electrohemic process. Again I can't believe only china can make silver color on aluminium.
Best regards
Goran
- Belgrade, Yugoslavia
---
2001
Remove the oxidation by sanding it or cem. etch then polish it.
Kelly Chadwick
- Ogden, UT
---
2001
Hi,
Here is one possible solution for your problem you can try BUFFING PROCESS on aluminium to get a shiny silvery finish. It will improve the surface quality as well the aesthetic of your component. I think this is the only possible way
Thanx,
Vishnu Shirodkar
- India
---
2001
Hi,
The best way to obtain a silver finish that will last is to use chrome bond powder coating. This also has to be clear laqured for protection. All the car companies use this on alloy wheels the powder is Poly and can be purchased from AKZO NOBEL. Hope this is of help.
Best Regards,
Richard Rinn
- Glasgow, Scotland
---
2001
Here is a step by step guide.
1. Make the tube shine - any way you can.
2. Clean it well - degrease with solvent and soak clean is best if you can not do that just do the soak clean in a mild alkali cleaner for aluminium.
3. Rinse in clean water - check now for water breaks - these are areas where water does not want to stay on the surface and runs away from if you have any it is not clean enough.
4. The part should still be nice and shiny and aluminium coloured. If not the alloy could be the problem - If it has gone black it is a high copper alloy and the cleaner is not mild enough. If it has small amount of smut remove it with 50% commercial strength (59%) nitric acid 50% water then rinse.
5. Anodise:
Sulphuric acid 96 or 98% a pure grade (battery will not do)
Check chlorides are below 0.2 g/l
(Simple test make a 0.2 g/l sodium chloride solution half fill a test tube then add silver nitrate solution approx. 1% or 0.1M to fill and mix do the same for the anodise solution - the salt solution should have more white stuff in it - if not throw away the tank of anodise solution and start again with better acid)
Concentration 140-180 g/l as H2SO4 About 9% by volume (always add acid to water - and be careful as it gets hot)
Temperature 18-22 C (chilling will be needed if doing big loads one after each other)
Power
The jobs are anodic held on aluminium wire or titanium jigs. Cathodes are lead sheet (we use roofing flashing - lead for roofs) about 1/2 the area of work being processed
Load the parts on zero volts.
Slowly raise the voltage - look what the current is doing it should go up then fall back - if it does not fall you may be etching.
Take the current up to about 15V (this is where the alloy and thickness needed come into play, you may need to go higher).
Anodise for time required - for this a short time of only 15 minutes should be OK - the coat will be thin but should allow the silver colour out.
6. Remove and rinse - the part should be nice and silver, if it has gone gray this could by the alloy it could be the film is too thick - play around with the time and voltage.
7. Seal - this is where you may have problems - seal in hot water. Hotter than 96C and it must be deionised conductivity less than 100 microS per cm.
8. Remove and dry and hopefully admire the silver anodise.
Hope I have not been too simple with this.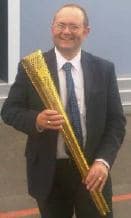 Martin Trigg-Hogarth
surface treatment shop - Stroud, Glos, England