World's #1 finishing resource since 1989
No login needed: Chime right in
topic 8315
Gold Stripping
2001
I am looking for a reagent to strip gold with. Hopefully somewhat selective. The reagent I used some time ago was made by a company called American Chemical or American Gold and Refining, something close to that. Has anyone heard of this company or maybe give me a lead on a similar product. They made a buffered KCN with an organic acid additive that helped the selectivity. They also made an excellent zinc based precip agent.
Hal Palmer
- Blanding, UT
---
2001
Hal,
Personally I haven't the slightest clue ... BUT may I suggest you contact ANACHEMIA SCIENCE who have an office in the USA, too, I believe.
Anachemia specialize, amongst other things, in looking after Mining (gold, in particular) laboratories all across the world.
I hope that helps.
CHEERS !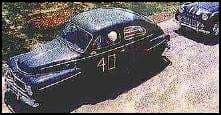 Freeman Newton [dec.]
White Rock, British Columbia, Canada

(It is our sad duty to advise that Freeman passed away
April 21, 2012. R.I.P. old friend).

---
2001
There's a company in Rhode Island called Covofinish, specializing in precious metal stripping and recovery. They make a product called Covostrip Au that you mix with cyanide. It works great. I think it was 10 oz/gal KCN and 10% Covostrip Au.
George Brackett III
- Utica, New York