World's #1 finishing resource since 1989
No login needed: Chime right in
topic 8304
Non Plating Materials
2001
I am working on a new mini plating line and need a material coating, powder or vapor deposit that is conductive, can withstand the acids used in Chrome and Nickel plating and NOT plate in the process. This is just the opposite of what everyone else wants, trying to get those hard materials to plate.
Barry Buchanan
research & development - Mooresville, North Carolina
---
2001
Barry,
Methinks you are looking for the impossible. Most coatings will fail, it's the nature of the beast when ultra thin so-called membranes are used for nasty environments, most coatings are totally non-conductive.
What, instead, what about using conductive high, very high quality metals? Ie. 80/20 nickel chromes? or, presuming you have lots of $$$$, make these mini tanks of some precious metal (gold comes to mind, ask Mr. Knox) ... and for the exotic metals, try SPECIAL METALS.
I did think of a 'fibreglass' having an interior or inside finish consisting of an ultra heavy carbon fibre woven roving (available in glass but probably not in C.F.) HALF of which is bonded/locked to the FRP matrix, the other half being exposed and hence conductive .... BUT I have no faith in the FRP resins (Hetron l97 being my old favourite) for your chemistry ... so that's out.
Maybe someone else will have a better idea, I hope so.
Cheers!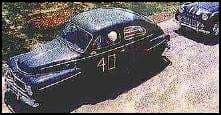 Freeman Newton [dec.]
White Rock, British Columbia, Canada

(It is our sad duty to advise that Freeman passed away
April 21, 2012. R.I.P. old friend).

---
2001
I would ask the question why conductive? If a material is conductive and made cathodic in a plating solution it will plate (with no guarantee on if it will stick).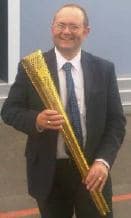 Martin Trigg-Hogarth
surface treatment shop - Stroud, Glos, England