60,000 Q&A topics -- Education, Aloha, & Fun
topic 8231
Removing Gold Spray Paint from Pewter
2001
I have a 140 yr. old pewter figurine that my grandmother felt compelled to paint gold. How can I restore it back safely?
Debora Chelson
- Prescott, Arizona, USA
---
2001
Deborah !
Be careful! Only use a solvent. Don't, please DON'T use any chrome polish or other 'cleaners' as you'll remove the patina of many years.
I, too, have an old pewter piece, a mug from around l795. Compared to other and later pewter mugs, it has a real dark dull appearance (shine is the wrong word) ... and even some of the markings on the lip have been worn away drinkers ... who are now all dead !
I would visit, if I may suggest, a local paint store and ask them to try out a dab of one of their solvents before you buy any ... you may have to acquire a lacquer solvent ... in which case why not try first of all some of your clear nail polish remover, sic. Acetone [affil. link to product info on Amazon].
'tis certainly a case of Caveat Emptor ! CHEERS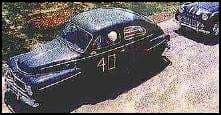 Freeman Newton [dec.]
White Rock, British Columbia, Canada

(It is our sad duty to advise that Freeman passed away
April 21, 2012. R.I.P. old friend).