60,000 Q&A topics -- Education, Aloha, & Fun
topic 8214
Deionized Water Metal Compatibility
2001
I am about to purchase a portable chiller to chill deionized (DI) water from 22-25 deg C to 2-8 deg C. All DI water contact surfaces will be stainless steel. However, a portion of the brazed plate heat exchanger will be brazed with copper (or nickel). The DI water will be in contact with the brazing metal. Can anyone tell me whether DI water is adverse to such metals, including stainless steel? What about DI water in contact with these metals (including stainless steel) for prolonged durations (e.g., liquid pooling due to lack of drainage)? Any potential detrimental effects?
I appreciate any feedback on this and thanks in advance.
Victor Lee
- Irvine, California, USA
---
2001
It highly depends on how pure the deionized water is. DI water is rated by resistivity, usually in mega-Ohms, and you might want to find out what this number is. Very pure water will corrode stainless steel! It would be a better idea to use a non-metallic tube like PVC if possible to convey the DI water. It is very possible that this DI water will reduce your heat exchanger to a rusted-out lump of scrap.

Tim Neveau
Rochester Hills, Michigan
---
2001
Hi Victor,
Tim's comments were very illuminating. He apparently knows very much more about D.I. water than I do ... or want to !
Re the comment about using PVC (my FAVOURITE plastic), don't use the flexible PVC tubing (I think that the plasticizers will get leached out if you do) but only the rigid pipe material.
Tim made me think about your heat exchanger ... you know, there ARE plastic heat exchangers. Available in PP and PVDF. Not as efficient, transferwise, as metals but L O N G lasting and horribly inert.
Food for thought, anyhow. CHEERS !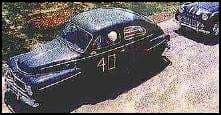 Freeman Newton [dec.]
White Rock, British Columbia, Canada

(It is our sad duty to advise that Freeman passed away
April 21, 2012. R.I.P. old friend).
---
2002
Hello,
I found your discussion on DI water and metals very interesting. Does anyone here know some bibliography on this matter? I am specifically interested on the compatibility of different types of stainless steel with different types of pure water.
Thanks,
Carlos Bort
Millipore - Madrid, Spain
---
November 10, 2011
316 SS is probably the best alternative for your heat exchanger with DI water.
I used with no problem.
Julio Cely
- Irvine, California