60,000 Q&A topics -- Education, Aloha, & Fun
topic 8205
Surface Protection for Aluminum from Deionized Water
2001
I am looking for a surface finish to put on aluminum that will protect it from deionized water.
Joe Solloch
- Port Washington, New York
---
2001
There are a few different ways to protect the aluminum. You could use a chemical conversion such as a gold Iridite, anodize it, anodize with teflon impregnation, anodize then teflon topcoat it , or just teflon it.
Josh Sonju
Sonju Industrial Inc. - Kalispell, MT, USA
---
2001
Joe,
Everbrite Protective Coating is an easy to apply, non conductive, clear coating that will protect the aluminum from deionized water as well as U.V., salt air and other damaging elements. It can be sprayed on, dipped or simply wiped on. The dry film is thin and will remain flexible.
Hope this helps,
Teresa Sedmak
Everbrite Coatings

Rancho Cordova, California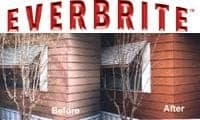 finishing.com is possible thanks to our supporting advertisers, including this one: