World's #1 finishing resource since 1989
No login needed: Chime right in
topic 8193
Bronze Extrusion Discoloration
2001
I am looking for a solution to finishing solid architectural bronze. We manufacture bronze trench and pool drain grates and frames. These are fabricated from Architectural Bronze, alloy 385, extrusions. We receive the extrusions with varying appearance and dark discoloration. The supplier has recommended a vinegar bath, but this only eliminates some tarnish on parts that have been in stock longer. The discoloration is thought to be impurities that deposit themselves on the surface during the extrusion process. These impurities will polish out, but polishing is not always practical because the surfaces can be serrated or otherwise irregular; that or inaccessible once the parts are assembled. Our solution has been to manually sandblast all surfaces, which creates a uniform but dull appearance. Afterwards we clear lacquer the surfaces as well. We would like to be able to remove the discoloration and keep the esthetically pleasing appearance of solid bronze.
Please understand that I am not looking for alternatives to solid bronze (i.e. bronze anodized aluminum or other plating/coating techniques).
Thank you.
Dean V. Balocca
- Wichita, Kansas, USA
---
2001
Not sure how big a trench drain is, but pool drains probably can be worked in a wheel or tumblast machine system which is more aggressive than abrasive blast systems and are basically automated except for loading and unloading. But if you want to remove the most amount of material in the shortest period of time and get smoother surface finishes, I suggest you look into mass finishing systems. Your volume and/or the speed of the process you want to maintain will determine the final system, size, and cost.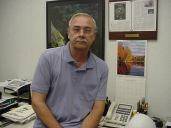 AF Kenton
Hatboro, Pennsylvania
---
2001
If you actually want a liquid chemical cleaner for alloy C365 leaded brass, try a 1 part sulfuric acid in 10 parts demineralized water to which you add up to 1% by volume phosphoric acid. Start adding the latter acid very carefully, with stirring. Don't add more, or while metal is in the bath. You will need to hot rinse, and warm air blow dry immediately after removal, or staining will reoccur. This is particularly good at removing red staining due to dezincification. I really prefer the natural color of this alloy, but the grey lead smears during abrasive polishing, so chemical etching followed by a clear organic coating is a good alternative.
W. Carl Erickson
- Rome, New York