60,000 Q&A topics -- Education, Aloha, & Fun
topic 8177
Are Salt Spray Cabinets Corrosive?
2001
My company is looking into getting a salt spray chamber for ASTM B117 [affil. link to spec at Techstreet] tests. We are planning on locating it near calibrated equipment, is this wise? I have always been told that salt spray cabinets should be contained within a room so that the salt couldn't corrode anything. Have I been given faulty information? Please let me know how you treat it if you have a salt spray chamber, or how you've heard it should be contained. We are looking at a large cabinet right now.
Benjamin Curto
- Ponderay, Idaho, USA
---
2001
Benjamin - Salt spray chambers generate corrosive fog which must be vented. Most manufacturers offer a means of venting down a floor drain or capturing the exhaust and draining it periodically. However, even with these measures, the chambers do put salt into the atmosphere. It is better to keep them separate from other sensitive equipment.
Cynthia L. Meade
- Sylvania, Ohio, USA
---
First of two simultaneous responses-- 2001
A larger problem is the daily inspection. You turn off the spray, but the cloud lasts for several minutes and opening the cover "sucks " some of it out into the surrounding area. I would not have it near high dollar sensitive equipment.
James Watts
- Navarre, Florida
---
Second of two simultaneous responses-- 2001
The info you are getting is right! When I used to run salt spray chambers, the salt fog would regularly take out other equipment around me. Our chambers used to operate in an open area near other test equipment. One time, I even took out the dollar bill acceptor in the nearby vending machine. It would be very hard to maintain other calibrated equipment next to a fog chamber.

Tim Neveau
Rochester Hills, Michigan
---
2001
Hi Benjamin,
Isn't the Finishing.Com concerned, amongst other things, with the ventilation of plating equipment, ie. of really corrosive chemicals? Why then should a salt spray chamber be viewed differently?.
A floor drain sounds totally useless.
Maybe the design, ventilation-wise, is sadly lacking. Heck, there are Assay fumehoods containing the worst mixture of reducing and oxidizing acids in the world ... clouds and fumes galore that will chew up every metal. Yet they work successfully and highly expensive in-lab testing equipment doesn't rust away.
As for putting 'fumes' into the atmosphere, you could say that for every surface finishing operation. But then certain operations have the 'fumes' cleaned, so why not the salt fog, too, I ask.
Food for thought.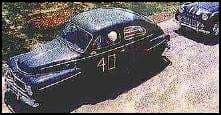 Freeman Newton [dec.]
White Rock, British Columbia, Canada

(It is our sad duty to advise that Freeman passed away
April 21, 2012. R.I.P. old friend).
---
2001
Remember that the fumes from salt spray testing are very different than those coming from metal finishing operations. Metal finishing uses cadmium, cyanide, hexavalent chromium, nickel, acids, bases, and other chemicals. In this case, a good amount of attention needs to be paid to safety and the environment.
Salt spray just uses table salt and water at a near-neutral pH. The same kind of mist could come from an ocean breeze! It can be corrosive, but I don't think it should be hyped up to sound like more than it really is.
However, many labs poorly plan where they put their salt spray machines. The chambers are usually grouped up with all the other lab equipment. Unfortunately, other equipment will wear away quicker than normal. This can get really costly on equipment maintenance. Companies with labs may not even think about this sort of thing until something expensive breaks down.

Tim Neveau
Rochester Hills, Michigan
---
January 11, 2008
The location of the spray booth is not so important as the ventilation around it.

A idea that I devised for when I am filling/touching up the playing tanks to keep the strong odors/fumes from permeating the area is a updraft system.

I made one with PVC pipe a air hose connector and a drill.

Attach the pipe to the hose and drill 1/16 -1/8 holes in the length around every inch or so .Make a square setup if possible and set it around the cabinet. a foot pedal can be installed or just use a valve and turn it on when you open the cabinet. along with a hood or a ceiling mounted vent fan you should have little to no problems with the fumes/spray/moisture settling on surrounding equipment.

Saves me a lot of money for a high dollar fume hood and keeps the guys in the plating room happy.
Tim Jenkins
- Phoenix, Arizona, USA
adv.