World's #1 finishing resource since 1989
No login needed: Chime right in
topic 8164
Phosphate Sludge Removal
A discussion started in 2001 but continuing through 2019
2001
Q. Dear friends,
We are doing Phosphating on car bodies. We clean Phosphating tank every month. With only water it is difficult to remove the Phosphate sludge from the tank & inside of pipings.
I want suggestion for better cleaning conditions.
Thanking You,
Ramesh Pukale
- Bangalore, Karnatak, India
---
2001
A. I would recommend using an inhibited hydrochloric acid. Get the concentration to about 5% v/v. Be sure that you get the solution up over 120 degrees F and then start circulating for a couple of hours. Keep extra acid on hand to keep the pH down - the pH will rise as the scale is dissolved. Neutralize, drain, remove debris and loose scale, rinse, rinse, and recharge to production specs. This should provide a good basic cleaning procedure and can be adjusted to your specific needs.
Dan Brewer
chemical process supplier - Gurnee, Illinois
---
---
2002
Q. Comments: I would like to know the different processes used for Sludge removing in a spray Zinc Phosphating process. What are the criteria while selecting a system? What is the effect of temperature on sludge formation? What should be an ideal temperature for Zinc phosphate bath? And what are the different methods used for heating this bath?
Kindly reply.
Best regards,
Kuber U.V.
Intech Surface Coating Pvt. Ltd. - Pirangut, Pune, Maharashtra, India
---
2003
A. Zinc phosphate sludge is always present in pretreatment processes. The best way to get rid of it is with regular cleaning with biologically active enzymes. Major automotive companies locally use this method and never have plugged nozzles, risers or heat exchangers. These enzymes also cost a fraction the usual nitric acid treatment does.
Edward James Petermann
- Cambridge, Ontario, Canada
---
August 9, 2015
A. To remove sludge use a 1% HCl solution. Use an online sludge separator to remove the sludge continuously.
Ravi V Ravichandran
- chennai TN India
---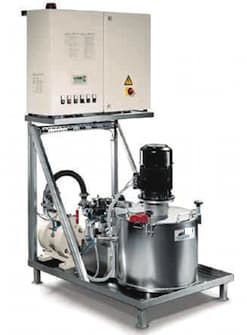 December 31, 2019
A. Consider use of Centrifuge Separator for phosphate sludge removal. The high centrifugal force can separate solids up to 5 microns or below at high efficiency. It is an online process and hence the phosphate tank is cleaned continuously.
Nitin V.
- Pune, Maharashtra, INDIA