World's #1 finishing resource since 1989
No login needed: Chime right in
topic 8107
Rusting Process, Environmental Concern and Suggestions
2001
To whom this letter may concern,
I have been starting a new business. It consists of rusting Rod iron. It has taken a great start but I have a question. I use Muriatic Acid [affil. link to info/product on Amazon] mixed with water in order for me to get the product rusted. I use 26 oz. to 15 Gallons of water. Will this cause any environmental harm to the city sewage system? And if so what can I do to correct the problem?
Please give me some suggestions and if you do have a different and safer way to rust rod Iron, please let me know. Thank you....
Robert D.
- Laredo, Texas
---
2001
Robert,
Well, normally people want to PROTECT things from rusting but you just want to rust iron rods. Unusual, eh?
The normal state for iron is .... RUST ... Fe203 and Fe304.
Maybe HCl is the way to go. Certainly it will attack iron or stainless for that matter. Try some sulphuric, too.
Re 'pouring down the drain', first of all get a pH meter (Fisher Scientific etc) and some alkali, ie. Sodium Hydroxide [affil. link to info/product on Amazon], for example. Add some in to the liquid. Stir. Get a pH reading of 7 (i.e., neutral) before dumping. ... but don't try to dump alkali into concentrated acid (sorry, never EVER put liquid into acid but always vice-versa!) as you'd get a heck of a hot reaction.
To get a faster oxidizing reaction, scour, sandblast or abrade the iron's surface. This will increase the surface area and, apart from removing any scale, will speed up the oxidizing process.
Being a lazy person myself, I'd just use a plastic tank and fill it with sea water and let nature itself take its course by leaving the iron to eventually revert to its natural state, RUST.
Hope this helps. Cheers!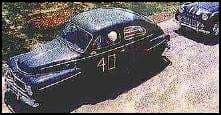 Freeman Newton [dec.]
White Rock, British Columbia, Canada

(It is our sad duty to advise that Freeman passed away
April 21, 2012. R.I.P. old friend).