60,000 Q&A topics -- Education, Aloha, & Fun
topic 8093
Brass Investment Casting Finishing Process
2001
Hello everyone,
Our company is new to the brass investment casting process.
Can I solicit information regarding finishing of brass castings specifically brass drawer handles?:
>What processes are usually done?
Grinding?
Sanding?
Shotblasting?
What chemicals are used for treating the brass castings?
Thanks.
Joseph Yap
- Cebu City, Philippines
---
2001
The answer to your question depends on volume and the type of finished product you are looking for. Typically, most handles are run in a mass finishing system. Abrasive blasting gives you a dull frosted appearance and shot blasting is limited to one specific appearance - rough. Wet systems have been known to be the fastest way to remove the most amount of material and make it acceptable to either a plated part, a burnished part, a polished or antique looking part. Depending on how rough your castings are depends on what media you will use. Sand castings above 35 RMS need ceramic media. Finer investment castings of 25 RMS probably will start off with plastic media. If you can give me the RMS of your parts and volume, I might be able to narrow things down for you a little better.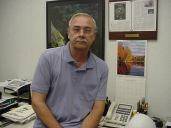 AF Kenton
Hatboro, Pennsylvania