60,000 Q&A topics -- Education, Aloha, & Fun
topic 8069
Passivation of 300 Series Stainless Steel Causes Loss of Shine
A discussion started in 2001 but continuing through 2019
2001
Q. Hello,
I am a quality engineer for an electronics company in the Northeast. I am currently investigating passivation issues on 300 series Stainless Steel standoffs clear passivated per QQ-P-35C [link is to free spec at Defense Logistics Agency, dla.mil]. Most standoffs we have received are bright and shiny. We have received a lot that has a dull finish, which the manufacturer indicates was passivated according to requirements.
My question is, would the dull finish be caused by cleanliness issues, or irregularities in the passivation process? Or do different series 300 steels provide different finishes?
Thank you for any help you can provide.
Edward C. Fink
- Andover, Massachusetts
---
2001

A. The difference in reflectivity that you see may be due to the difference in surface finish prior to passivation. If your bar is cold drawn and bright annealed, you would have a a bright finish. If the other is annealed and pickled, you could have a dull finish. Surface roughness evaluation or microscopic examination should show if this is the case.




Larry Hanke




Minneapolis, Minnesota





---

2001

A. Mr. Fink,
In my opinion, The grade of the stainless steel material has to do a lot with the dullness you are seeing. If your manufacturer has stated that the product was passivated to established standard operating procedures, the next step is evaluate the stainless steel to see the content in the material itself. I know by experience that this type of material has variation from lot to lot simply because of the sulfur content.

Regards,

Joel Garcia




- McAllen, Texas




---
---
April 25, 2012
Q. We did trial of passivation with machined sample of AISI 303 & our observation are as follows :

- There is a negligible dimension change before & after passivation.
- There is a significant surface finish change. Before passivation was Rz 3.8, and after passivation was Rz 8.8. As observed, finish is deteriorating during step no 4 (i.e.) pickling.

Our trial details are as follows :

1) After degreasing, Pickling with HNO3 (20%)+HF (2-3%)Temp 50 °C for 20 min
2) Hot Water Rinsing
3) Passivation with HNO3 (20-25%)Temp 50 °C for 20 minutes
4) Water Rinsing

Can you please advise on the process and probable causes of extensive surface deterioration.

Or any suggestion for pickling/soaking process.

Regards,
KHUSHWANT
- HARYANA, INDIA
---
April 26, 2012
A. Your pickle step is extremely aggressive. Can you get a satisfactory pickle with either less temp or less HF or less time?
As you see, it attacks the metal.
James Watts
- Navarre, Florida
---
May 3, 2012
A. KHUSHWANT,

From the information you gave, I have to attribute your dull finish to your pickling step...I supervise these processes on a daily basis for SS and Al... Your pickling step is entirely too aggressive. The etching rate of the LDA (Nitric + HF) is very fast, especially when your HF percentage rises to 3%. I would recommend you keep your percentage at about 20% Nitric and 1% HF... You should submerge the part in the LDA for no more than about 2 minutes...Depending on the size of the part. Usually I only do a 30 second to 1 minute dip...Good luck sir.

J.M.
Jose Morales
- Berkeley, California, USA
---
May 4, 2012
A. If you replace your nitric passivation with citric acid based passivation, you will not have problems with etching.

Pickling should not be done unless necessary, i.e. if there is scale or discoloration that needs to be removed. If the parts already have the desired appearance and just need to be passivated, skip the pickling.

Ray Kremer
Stellar Solutions, Inc.

McHenry, Illinois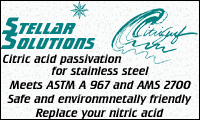 ---
---
Dull (matte gray) appearance after passivation of BS S80 corrosion resistance machined parts
July 12, 2019
Q. I need a help regarding passivation of corrosion resistance steel on BS S80 material. 

We are observing that a few parts are having dull grey (matte grey) color. If we process 6 parts in a single batch, we are observing uniform dull color (all over the part surface) on 2-3 parts. This is not consistent, we are not getting this color on a few occasions.

Can anybody please help us to provide some assistance for this phenomenon .

I give you some information for your assistance.

1.) Material : BS S80 'corrosion resistance' steel.

2.) Passivation process parameters : AMS-2700, Method-1, Type-2.

3.) Passivation process flow : Vapour Degreasing > Alkaline Cleaning > 2 D.I. water rinse > Passivation (AMS-2700, Method-1, Type-2) > 2 D.I. water rinse > Neutralization with NaOH > 2 D.I. water rinse > Post chromate treatment with sodium dichromate > 2 D.I. water rinse > Air Drying.

4.) All the parts belong to same raw material & batch number.

5.) The process of the parts are turned by CNC machine, Honed (There is no grinding process for this part).

6.) Passivation process done in a same day, same time. We have checked the passivation bath chemical constituents concentration & found they are within the control limit.

7.) We have checked the copper sulphate test & found acceptable ("no copper" color observed after 6 minutes)

8.) Parts photographs for your reference :

Request to review and give your feedback on the above issue. Please let me know, if you need any further data on the above.
Basavaraju T. S
- Bangalore, India
----
Ed. note: We have no photos from you, Basavaraju.