60,000 Q&A topics -- Education, Aloha, & Fun
topic 8059
Polishing Anodized Aluminum
2001
Q. Can anyone please help me. I purchased an old truck with lots of anodized aluminum trim that is oxidized & very dull. Is there any way to polish it? I called some shops, but they want a lot of money to re-anodize it. Even if I can get it cleaned up somewhat I would appreciate it.
Thank you.
Dennis DeChamplain
- Clarkston, Michigan
---
2001
A. Anodized aluminum is actually a thin layer of oxidized aluminum that is sealed and is usually colored. To clean up the aluminum, have the local job shops just strip the old anodizing (sodium hydroxide then a desmut) or just use some sand-paper #400 grit then #600-800 then #1200-1800 grit and clear it.
Josh Sonju
- Kalispell, Montana
---
2001
Dennis,
adv.
Faded and dull anodized metal can be easily refinished with Everbrite Protective Coating. It is an easy to apply, clear coating that can be sprayed or simply wiped on once you clean the metal. I wiped it on the anodized window extrusions on my home 5 years ago and they still look new.
Hope this helps.
Teresa Sedmak
Everbrite Coatings

Rancho Cordova, California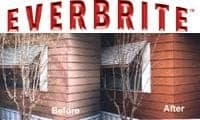 ---
2004
A. Ref: polishing trim...
There is not a simple way of doing what I think you desire unless you are familiar with high speed polishing. Sandpaper will not cut it unless you want the curvature to change, re-filming it is not going to give you a polished mirrored finish.
Jonathan Smith
- Eastman, Georgia