World's #1 finishing resource since 1989
No login needed: Chime right in
topic 8050
COMPATIBILITY BETWEEN ZINC AND HARD CHROME PLATING
2001
Dear Sir/Mdm,
I have a part made of zinc casting which has two parallel holes approximated 100mm apart. Through these two hole, two shaft having hard chrome plating will be used to guide the part to slide along the shaft.
Question :
1) Is there a compatibility problem between zinc and hard chrome?
2) What should I look out for in the reaction between these two material?
YEO WEE KIANG
- SINGAPORE
---
2001
The answer to your question depends somewhat on what you mean by compatibility. If you are concerned with galvanic corrosion, I don't think that it will be a big problem. Chromium is a passive metal, which means that the corrosion reaction is stifled because the metal is isolated from the environment by an oxide surface film. Since the chromium metal is not typically available for the electrolytic corrosion reaction, significant accelerated corrosion of a more active metal like zinc does not occur. Now, the zinc metal itself is pretty active, so corrosion could occur if the environment is corrosive. Accelerated corrosion could occur in the holes as any corrosion protection is worn away by the shaft. Wear of the zinc in the holes could be a problem. The chromium is very hard and wear resistant. The zinc could be worn out quickly by the shafts if the loads are high.
Hope this helps.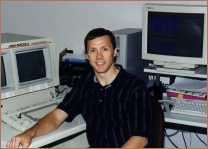 Larry Hanke
Minneapolis, Minnesota