60,000 Q&A topics -- Education, Aloha, & Fun
topic 8013
Black Chromate Finishing
2001
I'm looking for a person who has expertise in black chromate finishing. My problem is to get right ratio when do a new make up and how to maintain it. Is there any method to make me easier when do a new make up rather than testing in lab?
I'm hoping to get answer as soon as possible since my company line having problem when do a new make up.
Rahman
- Selangor, Malaysia
---
2001
Forget about analytical help in determining additions to a black chromate tank. There is no substitute for experienced personnel for this process which is more an art than a science. Spend half a day with your two part system and try various combinations. Use chlorine free water both in the run up rinses and post rinses and the bath will last lifelong. Decant the bath before every shift.
Regards,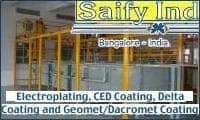 ---
2001
You have not told us if you are making the chromate solution yourself. If this is the case, I do not suggest you to waste your time on checking the solution. It is much better off to buy the chromate from one of the big chemical companies. They will tell you exactly the way to use it and the way to analyse the solution. In addition, the formulas should be much more stable the self brew ones.
S. Y. Yuen
- Hong Kong, China