60,000 Q&A topics -- Education, Aloha, & Fun
topic 8003
Chromium Nitride Coatings
2001
Hello,
Can anybody tell me about the properties of chromium nitride coatings, which are done by PVD process? Well I am working in the same field that is of PVD coatings, the problem is that when some dies were coated with chromium nitride, after coating the dies were ok, but they peeled off after two days. Can you explain the reason.
I also want to know the co-efficient friction of it?
Sanjeev Chawla
- India
---
2001
There are two phases of chromium nitride, Cr2N and CrN. Both are more difficult to deposit than TiN, as chromium is less reactive. Both are very hard, around the same hardness as TiN, though our CrN is a bit harder than the Cr2N. The elastic modulus of both phases is much lower than that of TiN.
I'm surprised that you are having adhesion problems. Usually people have problems getting the chromium to react with the nitrogen to form the chromium nitride. The de-adhesion that you have observed could be due to poor cleaning of the parts before coating or high stress in the coating. Have your coater deposit the coating on some thin shim stock. If it bends, you have a stress problem. Also check if sputter cleans before deposition.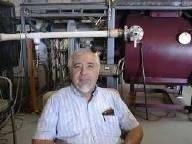 Jim Treglio

PVD Consultant - San Diego, California