Where the world has
gathered for finishing Q&As since 1989
Acid Resistant Coating for Aluminum
(
-----
)
Current postings:
September 8, 2021
Q. I have a part that is made from bar stock aluminum grade 6061-T6 or 5052-H32. Its finishing specs are as follows:
1. NICKEL STRIKE OVER ZINCATE IMMERSION
2. ELECTROLESS NICKEL PER ASTM B733 [affil. link to spec at Techstreet] (0.0003"-0.0005")
3. NICKEL STRIKE
4. CHROME PLATE PER ASTM B456 [affil. link to spec at Techstreet] (0.000010" AVG MINIMUM)

The part is in direct contact with 10-15% concentration of sulfuric acid liquid and vapors heated.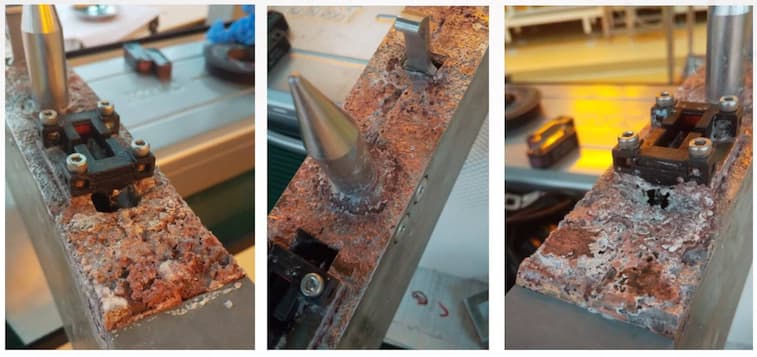 The issue is the life expectancy is less than 2 years before it corrodes. I was asked by my boss to look at alternative coatings and different grades of aluminum. My question is are there alternative aluminum coatings some one can recommend?
Frank DeFilippi
- Billerica, Massachusetts
---
September 2021
A. Hi Frank. Any place there is no wear, organic coatings like vinyl plastisol would be better, but it looks like you are dealing with some sort of centering post where a metallic coating is required.
I can't imagine chrome contributing much to the corrosion resistance, and assume it's there for lubricity.
You might try teflon impregnated electroless nickel as an alternative. The plating could be thicker, say 0.001", but my bigger question is why make this out of aluminum?
Luck & Regards,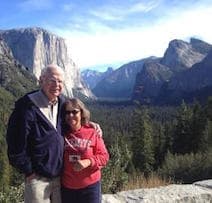 Ted Mooney
, P.E. RET
Striving to live Aloha
finishing.com - Pine Beach, New Jersey
---
---
---
Closely related Q&A's, oldest first:
2001
Q. Is there a coating for aluminum to make it HCl resistant ? I am running a process that has HCl in it and I am proposing to use an Aluminum chamber to do this. Therefore I need to protect the aluminum from the HCl, so it will last for 5-10 term.
Hugh Walton
- Auburn Hills, MI, USA
---
2001
A. 5-10 what - days-weeks-months- years.
What concentration and what temperature and what use- a few minutes a day or all of the time?
On the low end, 2 thousandths of high Phosphorous electroless nickel will work. For long term, use an appropriate specialty stainless steel.
For low budget, can you get a blow molded thick polyethylene container that you might possibly "hide" in a metal cylinder?
James Watts
- Navarre, Florida
---
2001
A. It is possible to design in a glass reactor? Aluminum is amphoteric, meaning it will react with acids and bases, and probably not a good choice with HCl. If you really need the reactor to be metal, you may have to go with tantalum, titanium, or maybe even gold or platinum. Some stainless steels and grades are better than others at resisting chlorine attack, but none are particularly suitable for HCl.
Dale Woika
Surface Conversion Sciences - Bellefonte, Pennsylvania, USA
---
2001
A. Try using a fluoropolymer such as Halar ECTFE, we coat a lot of parts that use acid baths and this type of coating gets the nod. Usually around 15-30 mils thick.
Josh Sonju
Sonju Industrial Inc. - Kalispell, MT, USA
---
---
Several threads were merged; please forgive repetitiveness, chronology errors, or perceived disrespect towards earlier responses -- they probably weren't there then :-)
---
---
2001
Q. I am looking for an acid resistant coating for machined aluminum machine parts.These parts need to have a similar resistance as 304 stainless.
Brad Hartley
- Media, Pennsylvania
---
2001
A. The simplest answer to this is to pre-treat the aluminum parts with chromating process and apply Teflon coating or polyester powder coating. If the parts require to withstand hard mechanical scratch, then hard anodising with hot seal may help your application.
Andy Lim
- Kuala Lumpur, Malaysia
---
2001
A. If you use hard anodizing process because you want a scratch resistance coating. It is much better off to leave it un-sealed. The sealing may reduce the scratch resistance of the surface.
S. Y. Yuen
- Hong Kong, China
---
2001
A. Sir:
Have you tried preparing the Aluminum by etch/desmut/zincate/Electroless Nickel Strike/Electroless Nickel(high phosphorus)? The high phosphorus deposit will give you excellent corrosion protection, plus have coverage wherever the solution makes contact with the Aluminum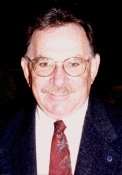 Ed Budman
[dec]
- Pennsylvania
With deep sadness we advise that our friend Ed passed away Nov. 24, 2018