topic 7810
Recovering Heat from Ovens for Use in Heating Water
(2001)
Hi there,
I work in a paint coating plant. The paint is cured by passing through an oven. Does anyone know of a way I could redirect this heat from the ovens to heat water to be used in the metal pre-treatment stage. I think it's a waste letting all this heat escape. Any thoughts on this would be most appreciated.
Thanks,
Lisa Wallace
- Belfast, Northern Ireland
---
(2001)
Place heat exchangers(radiators) over the oven or the hot parts that are cooling. Pump water through these heat exchangers to other radiators where you want the heat. It's a closed loop system. Another set could be used if you wanted isolation of the chemical.
David Domm
- Rochester New York USA
---
(2001)
I have seen ceramic "heat wheels" that use this waste heat to pre-heat the replacement air. Schematically, they look something like this: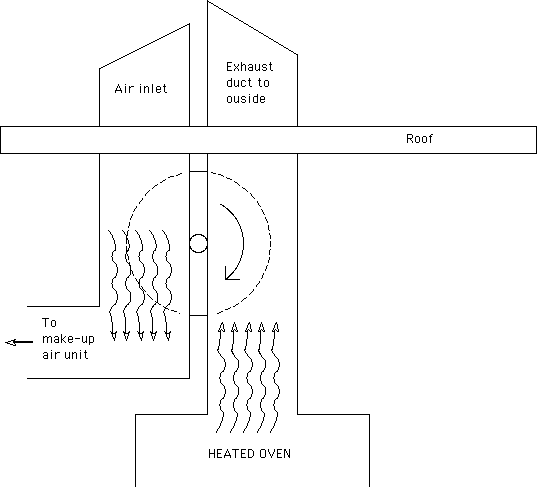 Ted Mooney, P.E.
finishing.com
Pine Beach, New Jersey


---
(2001)
Generally, recuperation energy out of oven ventilation stacks is not as simple as it looks:
1. The air always contains residues (solvents, etc.). These will condensate on the -colder- surface of any heat exchanger, thus building an isolating layer. The same goes for the fumes exhaust of the burner in case this is fired with oil. Therefore filtration is necessary (and expensive!)
2. If the exhaust air is cooled below its condensation temperature you will get condensate. This condensate is of low pH (acid) in most cases. Therefore all exchangers, piping etc must been made of stainless materials.
We did this kind of calculations for a lot of surface treatment plants. Results in general:
ROI (return on investment)periods normally + 8 year
Not economical for ovens and dryers
A general check-up and a re-adjusting of the oven (amount of air-exhaust, adjusting internal air circulation system, adjusting air-curtains, etc.) proved to be more efficient.
If you have greater amounts of exhaust-air (for example outlets of spray booth) the system Ted Mooney suggested is a good option
Hope to have been of any help
Remmelt Bosklopper
- Enschede, The Netherlands


This public forum has 60,000 threads. If you have a question in mind which seems off topic to this thread, you might prefer to Search the Site