topic 7798
Non-Residue Polishing - a Possibility?
(2001)
I am currently looking for an alternative type of polishing process or polishing compound which will eliminate the need to degrease the components afterwards. We are currently hand and auto-polishing pressed brass (later lacquered) and zinc diecast components (later plated) using traditional polishing compounds that often leave a black residue on the back or inside of the parts. This problem is made worse by fibrous matter from the polishing wheels also contaminating the components.
Due to the need to discontinue use of trichloroethylene, I am looking to see if it is possible to remove the need to degrease components after polishing rather than opt for an aqueous cleaner, for instance, where the results have been very disappointing in terms of quality and cycle times. Can anyone help?
Mark Smith
- Willenhall, West Midlands, UK
---
(2001)
Hi Mark ,
I am sure that if you go to one of the specialty Metal Finishing suppliers you can get an aqueous cleaner that will do the job in less than 10 minutes . If however your volumes are great enough you should consider Ultrasonic cleaning which will do the task in just a couple of minutes , again seek advice from a metal finishing supply house or a good consultant
Regards.
John Tenison - Woods
- Victoria Australia
---
(2001)
You should look at dry organic mass finishing systems as an alternate method to hand buffing. You can achieve a nearly hand buffed looking part. Depending on your volume, part size, and/or speed will determine which is the best equipment system for your application. A surface finish of 8 to 12 RMS is possible with most systems, but it is a question of time. There is not enough information provided to direct you to the proper system.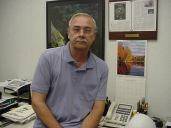 AF Kenton
Hatboro, Pennsylvania


This public forum has 60,000 threads. If you have a question in mind which seems off topic to this thread, you might prefer to Search the Site