topic 7516
Seeking 32 Microinch Finish on CDA 110 Copper Plates in Volume
(2001)
I need help finding a solution/source to cost effectively get a 32 microinch finish on a CDA 110 copper surface in volume. The copper plates are approximately 3" x 5" x 3/16" and will be machined prior leaving a 64 microinch finish (our typical finish for parts we machine). The two 3"x5" surfaces are the target surfaces for the finish.
We have been looking at double disc grinding, but in volume of roughly 400 k/yr, we are getting quotes in the neighborhood of $1 to $3. Our target is $.25 per. Are there processes I am missing?
We will entertain purchasing equipment or outsourcing the parts - whatever works. Thanks.
Tom Branchaud
- Beverly, Massachusetts
---
(2001)
32 microinch from 64 microinch starting surface should be easily obtained using a vibratory finishing process. If you absolutely do not want part-on-part contact marks, there are single pass or as some call them through put vibratory machines. The principle is "first in, first out".
Good luck.
Bill Boatright
- Raleigh, North Carolina
---
(2001)
If your parts are flat, a normal wet mass finishing process may not produce the results you are looking for because of water adhesion and/or parts sticking together. That means that you may not get a uniform surface finish; therefore, you might have to consider a dry organic process. If you can run a wet system, you should consider a plastic media.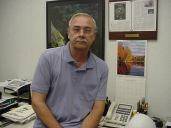 AF Kenton
Hatboro, Pennsylvania
---
December 2, 2010
If you can double disk grind, the part must be flat.
Why are you machining the surface, with the weight of
copper you are using per year you can buy it to exact thickness, with your 32 finish. If this is not possible
use a carbide finish cutter and a pass thru orbital
machine.
Craig Bader
- East Rochester, New York. USA


This public forum has 60,000 threads. If you have a question in mind which seems off topic to this thread, you might prefer to Search the Site