topic 7505
Information Needed on Metal Finishing Techniques
2001
Dear Reader,
I work in a Metal Fabricating shop where I build Aluminum cabinets for networking equipment. I do most of the Finishing work on the cabinets and I am having some trouble finding a way to remove large and tiny defects (scratches and dents) from the metal in an efficient way.
I am very interested to hear of any tool (preferably inexpensive) or tricks that anyone may have or learned. I would be very grateful for any suggestions, and would appreciate it greatly.
Sincerely,
Josh Habing
- Gallatin, Missouri
---
2001
I'm not sure anyone has good technical knowledge to pass on to you except this. If you are dealing with aluminum, you can't avoid marks, dings, and discoloration from handling. That means, don't!
I suggest that you use some kind of heavy protective adhesive paper to put on the sheets as soon as they come in the door or are in an acceptable condition. I would even leave coating on parts and ship that way. Let your customer take care of the problem.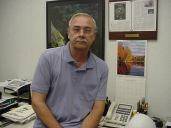 AF Kenton
Hatboro, Pennsylvania
---
2001
Hello Josh
I use an orbital sander with a 320 grit on extrusions and sheet and get most scratches.
Good luck
Ken Anklovitch
- Saskatoon, Sk. Canada
---
2001
Josh,
I guess depending on the finish that is desired for the end user is where you need to start. I have found that giving a piece of extrusion a brushed finish (like a stainless countertop or sink) will take away from the dent or ding. Traditionally I use course non-woven discs/wheels and follow that with a fine non-woven disc/wheel. The course one will take away from the ding and the finer one will smooth the piece. As another reader wrote, don't mess with it, I disagree somewhat. Take some time to test different wheels, speeds. Also get feed back from end users, what finish do they like, if its paint possibilities are endless... Bondo [linked by editor to product info at Amazon].
Good luck!
Michael Born
- Cresco, Iowa
---
2001
A burnishing tool might help with the scratches. There again it depend on the finish of the end product. Are you trying to maintain the alclad finish? If not a orbital sander would work.
Good luck :)
Kelly Chadwick
- Ogden, Utah
---
May 6, 2009
Proper material handling from stacking the raw stock, shop cleanliness,use of tables and carts,separation of parts using cardboard and newspaper.practicing handling the material before performing the job will be your best cost effective bet, by doing this you eliminate the job and the man minutes it takes to repair the product,if finishing is required use of large machines called timesavers,belt sanders and palm sanders.polishers with a tigercut compound. I would have to say disc sanders on aluminum are ok for corners and edges but not recommended for surface areas cause they will not keep the grain and when you cross the grain its twice the work and material loss to try and get it out
William Coleson
- Colorado Springs, Colorado, USA


If you have a question in mind which seems off topic, please Search the Site