Live! From beautiful Pine Beach New Jersey: Welcome to the world's most popular metal finishing website
topic 7458
Black and White Corrosion on Zinc Plating
A discussion started in 2001 but continuing through 2018
2001
Q. I am a quality control manager for a company that builds mild steel wire shelving products. We then have these shelves zinc and chrome plated by an outside plating vendor. A chloride zinc process is used to electrodeposit zinc on a ferrous substrate to a minimum thickness of .0003". The zinc plating is applied in accordance to: ASTM B633 [link by ed. to spec at TechStreet] -78 Fe/Zn8 SC2.
In the past few months we have been having a lot of corrosion problems with items that have been packed in our warehouse for several months. The wire shelves are covered with white and black corrosion marks. Some persons here think it is from the shelves sitting inside the cardboard cartons they are packed in for too long.
My question is this...under normal conditions how long should zinc plating hold up? Also what might be causing our corrosion problem?
Please keep in mind when posting your replies...I am not a plating vendor. Thanks!
Steve C.
- Baltimore, Maryland USA
---
2001
A. The first thing you will want to look at is the environment the parts are being stored in. Does it get extremely hot? Is it very humid? Is it sitting near any acid? If these parts are stored near the plating operation, chemical fumes from the plating process can actually rust them.
The other thing you will want to check is the quality of the plating. Plating shops sometimes run into problems that need to be addressed. Check plating thickness on your parts to see if it is the right amount (this can be done easily with equipment your plater has). Make sure your plater is maintaining the chemical baths properly. Make sure the parts are being cleaned properly. Introduction of a new contaminant in the manufacturing steps can stick to the part through the plating process. If the part does not get properly cleaned, then the plating will be bad.
Something is definitely wrong. Zinc plating should last a long time, and cardboard boxes should not affect it at all. You will need to do some troubleshooting, so good luck.
Tim Neveau
Rochester Hills, Michigan
---
2001
A. I have seen cardboard do this to zinc plating. Something to do with the glues used in manufacturing cardboard. PVC though undesirable, may still be required for longer storage periods. Still, checkout the plating and porosity of the wire before blaming the packing.
Khozem Vahaanwala
Saify Ind
Bangalore, Karnataka, India
---
2001
A. Are the parts stacked close together or nested? Zinc will form white corrosion products, then black, if allowed to remain wet and tightly packed. There is plenty of documentation on the phenomenon under the term "white rust". White rust is very common when galvanized sheets are stacked together, then become wet. I suppose this could also happen with the parts stacked tight with coated cardboard.
Larry Hanke
Minneapolis, Minnesota
---
2001
A. The white corrosion products are usually Zn(OH)2 and/or ZnCO3 from the moisture in the air. The black corrosion product is usually ZnS2 from Sulfur compounds in the cardboard. There are special cardboards and paper that are Sulfur free. You should contact your supplier of these materials and if they do not give you a good answer about the composition of their product find another vendor.
George Shahin
Atotech - Rock Hill, South Carolina
---
(2007)
A. Plating Zn from chloride solution or from a phosphate bath may result in the formation of white spots on the plated component if the pH of the rinsing and plating solution was not controlled. I agree that either the precipitated of (ZnOH)2 or ZnCO3 corrosion material would causes the white corrosion coloration in the Zn deposits. The black discoloration co-deposit is likely to be a ferri-ferrous oxide. The white or black stains found in the films lattice crystal has nothing to do with cardboard phenomenon that others writers have already stated. The solution to this unwanted stains on the Zn films or its alloy deposits is to make sure that the temperature of the bath, the precleaning solution's pH and the final rinses was adequate to assure that any insoluble residual salts and unreacted Zn impurities such as the (Fe2)O3, oil or ZnCo3 was removed.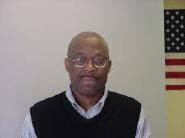 Bassey J. Udofot
Musgegon, Michigan
---
March 23, 2011
Q. I would like to know if the variation of pH of rinse water can cause this black corrosion. Is it possible?
Cezar Borges
- Ipatinga, MG, Brazil
---
---
Corrosion on a Zinc Plated Item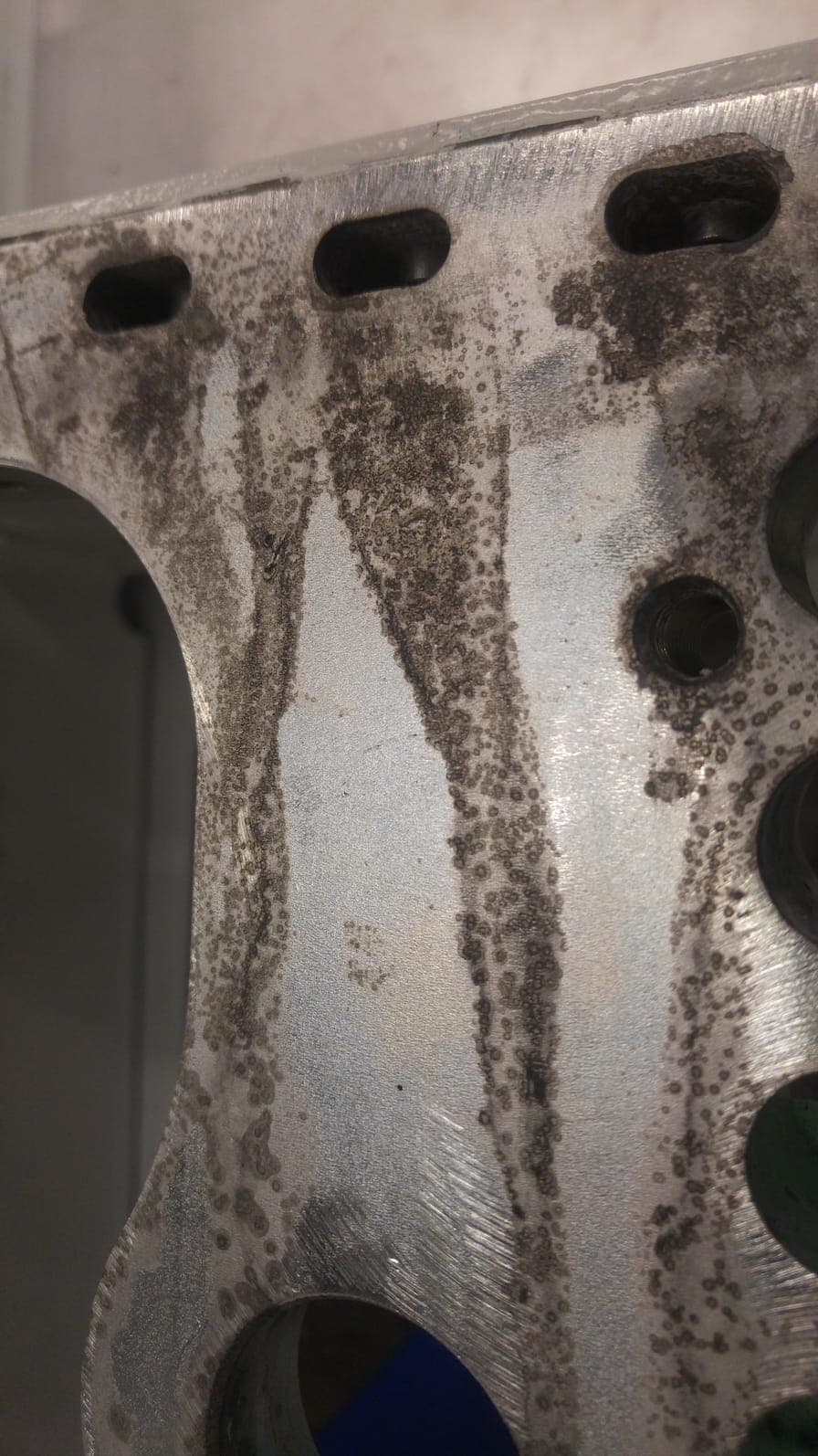 July 10, 2018
Q. We have some zinc plated steel plate that's machined prior to zinc plating. There seems to be corrosion happening on it, but I don't know the cause.

The finish on it is:
Zinc plate per ASTM B633 [link by ed. to spec at TechStreet] FE/Zn 8(SC 2) Type III
Post bake for hydrogen embrittlement relief per ASTM B850-98 [link by ed. to spec at TechStreet] within 4 hrs after zinc plating

Does anyone know why this is happening to the material?
Kevin Key
- Burlington, Ontario, Canada
---
July 2018
A. Hi Kevin. This part is deeply scratched. If it was scratched before plating, it probably should not have been plated without mechanical finishing first.
If it is a part that is in service, which I suspect, I doubt that it's a plating problem. It looks like it was exposed to tiny droplets of corrosive solution from a spray, which also ran down the part. Almost like somebody tried to spray it with oil or WD-40 but sprayed it with rust converter or some other acid instead. It's probably unrealistically optimistic to expect no corrosion after severe scratching and exposure to corrosive substances. If you can find out what service this part saw, it would be helpful.
I think maybe you are going out of your way to not tell us what this part is in an attempt to be fair & impartial. But I think what it is may be the key to the problem. Were there bolts in those holes and slots? :-)
Regards,
Ted Mooney, P.E. RET
finishing.com
Pine Beach, New Jersey
Striving to live "Aloha"
---
July 12, 2018
Q. The top slots actually are clearance holes for rivets. If you look closely, you can see the ends of the rivets in there. The holes on the right are clearance holes for rivets as well. The hole in the middle bottom of the page eventually gets stuff bolted to it, but our facility doesn't add anything into that hole right now. We do however use that hole (and others not seen) to mount the whole piece (this plate is a drive mount of a type of UGV vehicle) on a jog to paint.

So I noticed this while the part was riveted to other (aluminum) parts (you can see the sheet metal up by the riveted side of the zinc plated plate) and was pretty confused of this. I checked the pieces we received in and didn't see any markings on those parts. The guys assembling this project said they didn't notice the markings while assembling, but I don't know how truthful that is as I don't know how long it would take for something like this to develop.
Kevin ley
- Burlington, Ontario, Canada
---
July 21, 2018
A. Looks like chemical corrosion as Ted says. If you're able to rule that out look into the ppm of Fe in the trivalent clear chromate. You could be looking at corrosion via galvanic cell, thus accelerating corrosion. The "yellowing" on the surface in the middle of the part looks like high Fe concentrations in the passivate.

I can't tell from the photos if the metal is pitted. I'm assuming a part like that is rack plated and then baked off line? If so verify that the conversion coating is applied AFTER baking. This is important.

P.S. Trust but verify!
Jason Maravilla CEF
Zn Plater - Elizabethtown Kentucky


If you have a question in mind which seems off topic, please Search the Site