topic 7450
"Bubbles" in Chrome Plating on Plastic
(2001)
Q. Our company has several ABS/PC plastic parts that we want to be decorative chrome plated. These parts will be used in a boat. They need good corrosion and wear/scratch resistance. We mold these parts in-house and send them out for chrome plating. We have experienced "bubble" lines in the parts.
I am attaching a picture of these as seen on the inside of the part. Pictures taken from the finished side were to shiny to provide a good photo. Our chrome plater believes this is due to moisture in the parts.
We are currently preparing to mold more parts, recording all process parameters and the exact moisture content of the material before molding. The material will be dried to the moisture content level recommended by the manufacturer. Since we mold in a very humid Florida climate in an uncontrolled area, can this affect the parts even after molding? Are there specific guidelines for handling these molded parts?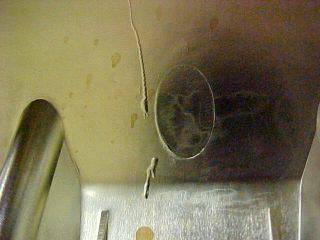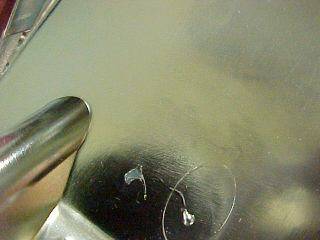 We have been told that gloves should be worn and the parts should not be touched by human hands. What is the best way to package parts for shipment to the chrome plater? We have been molding plastic components for 40 years but this is our first chrome plated part.
I have also requested a process flow and control plan from out plater so we can better understand their complete process. We know that the surface of the part before plating is very important to a good chromed part. We do not use mold release. Are there any other molding process parameters we should watch?
Any suggestions would be appreciated.
Marcy Maples
-St. Cloud, Florida
---
(2001)
A. Marcy,
We mold and plate our products in-house and although they are all ABS components the parameters for ABS/PC blends don't change much.
In answer to your questions I have found the following: The blisters you are talking can come about from a couple of conditions Splashmarks due to moisture in the material when processing. These should be visible on the moulded component. If it is wet material you can usually check it out by leaving the moulding machine sit for half an hour with a barrel full of material and then restarting. The product should come out free of splashmarks on start up.
If you are experiencing problems because of a humid environment a dehumidifier on your hopper dryer would help Splaymarks due to the melt temperature of the material being to hot. In the above test the splay marks would be worse on start up if the material was left sitting for half an hour. If you are running a hot nozzle in your tool quite often it can create splay marks in the product which show up as blisters if the temperature is to hot. The beauty of a standard sprue is any degraded or cold material from the nozzle is trapped in the runner or cold slug well at the bottom of the sprue instead of being injected into the product.
In the plating process I've seen blisters that look like the ones in your photo if the product hasn't been etched properly would pay to check adhesion by doing a cross hatch test. In terms of process parameters for moulding and plating we find the following work well. Melt temperature about 20 deg above normal temp for non plating products Injection speed as slow as possible to give a good looking part that is free of flow lines and gramophone lines Injection pressure only as high as required to fill the part. Mold temperature about 60 to 80 °C (typically we run a heat exchanger on the side of the tool that creates the seen part of the product). Hold time long enough to pack out the part Do not use any mould release agents.
I work on the theory that if a release agent is required then there is something not right with the design or construction of the tool. Try more draft, polish etc., For handling Clean cotton gloves are ideal for product handling. Avoid using plastic bags to pack the product in. Either individually wrap or layer the components with tissue paper or white newsprint paper. Any mark that is apparent on the moulded component will be magnified in the plated component. For plating, if you are going to be using this product in a marine application you are going to need a service condition 4 type plate, which consists of the following Acid Copper 15 microns Duplex nickel 30 microns (bottom layer 75% thickness) Chromium 0.25 microns or Acid Copper 15 microns Duplex nickel 25 microns Microcracked Chrome 0.25 microns. These will give the best corrosion protection for a marine application.
I hope this helps, would be interested in hearing what the cause of your blisters was.
Tim Strickland
- Auckland, New Zealand
---
(2003)
A. HELLO MARCY. I'm really regretting to see your question so late (it's about 1 & 1/2 yrs.). I hope that you may have solved the problem. Well we are manufacturers of plastic components that are being used in automobile and refrigerator commodities, and we have in-house injection moulding and plating facilities. Well on the basis of the pictures you have shown I can say that this must be the back side of the component.(please correct me if I am wrong); actually presence of ejector pin marks is the basis of my opinion, and the problem is most likely due to improper etching because in the piece the whole metal layer is peeling clearly exposing the underneath plastic. Moreover I have seen by experience that peel off due to presence of moisture mostly occurs on the upper portion of the component. So you must check these things with your plater. I'm eagerly waiting for your reply.
Thanx and regards,
Sandeep jain
- Delhi , INDIA
---
February 18, 2015
A. Contamination to the substrate is the culprit in blisters in chrome plating. It could be from oil off of bare hands touching the part prior to plating or airborne debris attaching itself to the plastic also. The list is endless. Once analysis has been conducted on the material below the blister and root cause is established the culprit can be eliminated. If condensation gets underneath the blisters afterward the result is peeling chrome.
I work in the auto industry for a supplier of plastic plated parts shipping to the major automotive Assembly plants internationally.
I hope this helps.

April Fillmore
- Burlington Canada
---
---
May 31, 2016
Q. Good afternoon.

Is it possible for these blisters to appear over time due to any of the reasons you have mentioned or, are there any known external factors that can affect the finishing and create blisters (over time) to product once deemed conforming?

Any feedback would be appreciated.
Juan Urquiza
- Cookeville, Tennessee


This public forum has 60,000 threads. If you have a question in mind which seems off topic to this thread, you might prefer to Search the Site