Where the world gathers for
plating, anodizing, & finishing Q&As since 1989
-----
Paint moisture problem? Not sticking to Ospho
May 7, 2022
Q. I am a chemical engineer working in the field of paints. I have a problem with how to get rid of moisture.
Saad Momsen alown
- Iraq Baghdad
---
May 2022
A. Hi Saad. Sorry but your question seems awfully vague :-)
Luck & Regards,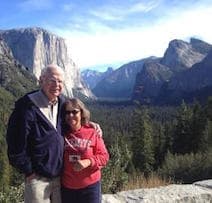 Ted Mooney
, P.E. RET
Striving to live Aloha
finishing.com - Pine Beach, New Jersey
---
---
↓ Closely related postings, oldest first ↓
---
---
2001
Q. I built a piece of equipment using regular mild steel plate and standard structural angles and square tubing. I wire brushed all of the powder rust and spray applied a coat of Ospho. After 24 hours it was completely dry to the touch and I applied a coat of Rust-oleum #7435. 48 hours later the paint could be easily peeled off with the back of a fingernail!
Question one: What did I do wrong?
Question two: What do I do now?
Giles Van Duyne
- Groveland, Florida
---
2001
?
1. How did you prepare the surface prior to the ospho?
2. Did you de-grease the surface?
3. What time of day did you paint ?
4. How was the paint applied ?
5. Did you notice anything unusual about the application (crawling paint, fisheyes, sheeting, etc.)?
Steve Cook
- St.Petersburg, Florida
---
2003
A. The whole trick to painting on metal with an oil based paint is to be sure that the surface is Clean with a capital C. This not only means grease and dirt but also water. Or more correctly, water humidity which will get on metal in a damp and cool day.
Heat the metal up to about 85 degrees so that moisture does not want to collect on the surface.
That way the metal will be bone dry.
Marvin Alvarez
- Bridgeport, New Jersey
A. DEPENDING ON THE APPLICATION. THE Ospho [affil link] SHOULD GO ON A CREAMY WHITE. A CHEMICAL REACTION OCCURS TURNING THE OSPHO BLACK IN COLOR. THIS SHOULD TAKE BETWEEN 20-60 MINUTES. DEPENDING ON TEMPERATURE AND HUMIDITY. RINSE WITH FRESH WATER. REAPPLY AS NECESSARY WAIT FOR THE SURFACE TO DRY THEN APPLY PRIMER AND OR PAINT.
RICK PATEK
- OLYMPIA, Washington
2003
A. Although the Rust-o-leum product you applied may have been dried to the touch which most coatings are, it may have not been fully cured. Most paints, even epoxies, have a 30 day full cure time. You can scratch off most coatings even after a 4-5 day time frame, after 30 days you should not be able too.
Dan Burnett
- Gainesville, Georgia
2007
---
April 4, 2011
!! PLEASE STOP SPRAYING OSPHO! If you aerosol this stuff, use the proper protection. The MSDS requires a certain respirator if the stuff is airborne. You do not want to breathe phosphoric acid in an airborne state especially if you're in an enclosed area.
Ken Burge
- Houston Texas
---
2004
Q. Hi all.
I've just come across this site while researching rust converting products. I've recently purchased a '93 Explorer with quite a bit of rust. So far, I've bought an aerosol spray called "Rust Converter [affil link]" and a bottle of Ospho. I originally thought the two accomplished the same end result. But reading several posts here leads me to believe this is not the case. Is one of these products superior to the other? Would I achieve better results if I were to use both (the Ospho and then the Rust Converter)? I had intended to spray the frame with the Rust Converter and then use an undercoating. As for the body rust, I planned to use the Rust converter, then prime and paint. Now that I've found the Ospho, I'm not sure how to proceed. Any help would be greatly appreciated.
Jennifer Bennett
Hobbyist - Bunnell, Florida
A. Hi Jennifer. Rust converter and Ospho are pretty much the same thing, so I say use just one or the other.
Regards,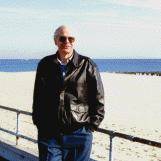 Ted Mooney
, P.E.
Striving to live Aloha
finishing.com - Pine Beach, New Jersey
---
2007
Q. I bought the Ospho product. What is the best way to apply it? What type of prep do I need to do to the door beforehand (sanding...cleaning)? One of the responses to another question said clean it well. WITH WHAT?

It is a sectioned door with a white powder coating(?) paint and textured like orange peel. The surface has a light coating of rust all over. Door is structurally sound, but looks bad. After treating with Ospho, what type of paint can I use over it?
Debora Cross
hobbyist - Cape Canaveral, Florida
---
2007
Q. I have an old radio flyer wagon from my husband's childhood that I would like to refinish. I'm not sure where to start? Could you please help me out with the best steps for this project? Thank you so much!

Jackie
Jackie Riesberg
- LaVista, Nebraska
---
May 17, 2009
Q. I have used a combined rust converter and primer on tiny rust stone chips on a vehicle. Alas I didn't wipe away the excess and now have much larger brown stained patches where the product dried which seems very difficult to remove. Does anyone have any ideas apart from the obvious option of sanding the stained surface away please ?
Frances Grindlay
- Melbourne, Victoria, Australia
---
2007




Q. I'm restoring a 1923 Aermotor windmill. The rustoleum aluminum is too bright. I would like the dull galvanized aged look. Any way to tone down the aluminum? I've tried computer matching at Home Depot with an old blade. Auto paint can match close but is for spraying and I'm brushing/rolling. Thanks, Dick

Dick Strough




hobbyist - Fortville, Indiana






---

September 24, 2009

A. To the windmill restorer. You might try "Cold Galvanizing" which is a spray on galvanizing paint. It does have a duller appearance. It can be purchased just about anywhere that cans of spray paint are available. Galvanized metal can be aged, or etched, by wiping with vinegar [affil link] which is a mild acid. I would give the Cold Galv thirty days to cure first. I've not tried this on Cold Galv but have on galvanized metal many times.

Bob Johnson

- Ocala Florida
---
November 19, 2012
A. If you apply a thick coat of Ospho on metal surfaces it creates a waxy film. The primer failed to adhere to the waxy film. In my experience, after applying ospho, we scrubbed the surface with mineral spirits to remove the excess ospho. This allowed the primer to bond. The primer has not failed after twenty years. These are civil war era cannons that are exposed to the elements year round.
Mike Hosti
Retired - Tybee Island, Georgia
---
---
Ospho pretreatment of metal roof before painting
February 25, 2017
Q. I have a 10,000 sq ft metal building that is 30 years old. The galvanize steel metal pan roof is getting some rust scale on it. I bought 2 steel bristle push brooms to knock off the loose rust scale and will pressure wash the brush the loose rust off with tap water before applying the Ospho when the water dries. I plan on applying the Ospho with cotton mops at the center top crest of the roof into each roof pan starting at the top and working the Ospho downward. Reading other texts I'll apply on a windy day re. fumes. Question: does this procedure sound ok? Should I pressure wash the roof after the Ospho dries? I will be applying a new long life polymer roof coating afterward. The roofing supply house recommended the Ospho pretreatment for the first phase of this job
Philip van winkle
- orlando, florida, usa
---
February 2017
A. Hi Philip. I believe that Ospho tells you to rinse it before painting to remove any white residue. But it sounds to me that as long as you don't have the pressure so high that you strip off the Ospho conversion coating, a pressure washer ought to do a good job at it.
Regards,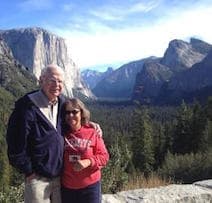 Ted Mooney
, P.E. RET
Striving to live Aloha
finishing.com - Pine Beach, New Jersey
A. Anything steel that is treated with ANY product containing phosphoric acid MUST be neutralized before any primer or paint can be applied. If the dried phosphoric acid is left on the surface any coating will fail unless it is a self etching primer because these primers have phosphoric acid in them but then you need to put a special sealer over that before any coating will adhere. Ask anyone in the automotive refinish business (Body shop) if you can remove rust with phosphoric acid and then prime directly over it. Tech sheets for automotive primers tell you they cannot be applied over an acid etched surface and auto epoxy primers are some of the toughest products out there to adhere to and seal metal.
Ken Johnson
- Milwaukee, Wisconsin
August 23, 2021
---
---
July 5, 2017
Q. I have a cast iron wood stove, that I'm trying to refinish. The stove is expected to be in a fairly humid environment, and there's no way around it. There's minimal investment in the stove, it's a hand me down. So far I've purchased some steel cup brushes, a steel brush, a phosphoric acid based rust converter similar to ospho, and a can of 248903 rustoleum High Heat black.

Pictures of what the stove looks like currently: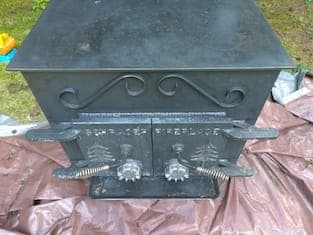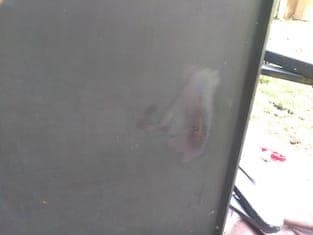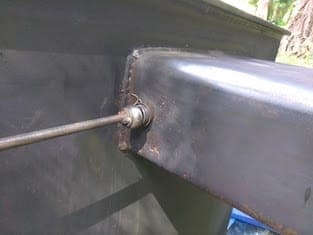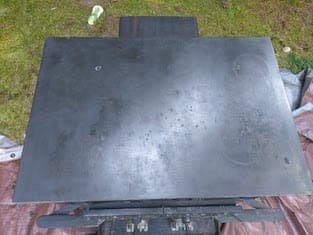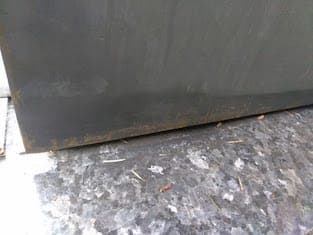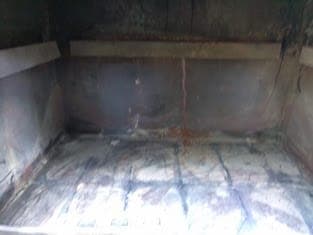 So far I've run the cup brush on a 1500 rpm drill (the fastest that I have) and I've managed to remove rust and paint from the stove. I want to know do I need to completely remove the paint from the stove to apply the Ospho and the rustoleum?

It is difficult to remove all the paint with the drill and steel brush. If it is suggested I remove all paint, Can anyone suggest a quick and affordable way to remove paint without an excessive expenditure of tools?

Finally any recommendations on the final step of applying the phosphoric treatment?
Colin Williams
- Shoreline, Washington
---
---
Steel boat - applying a 2 part epoxy primer to an OSPHO treated surface
April 5, 2018
Q. I'm treating and painting my steel boat.
I've needle gunned & wire brushed the scale and rust followed by treating with the OSPHO (a phosphoric acid treatment) to the cleaned surface.
I'm advised that the Ospho treated surface won't take a 2 part epoxy paint primer.

Can I rinse and clean the treated steel with water followed by a thorough wipe-down with denatured alcohol to rid the steel of the Phosphoric acid contaminant and then apply the 2 part epoxy primer ?

Will this work ? or Any other suggestions please.

Thank You.
geoff orr
engineering - Ft Lauderdale, Florida.
---
---
July 17, 2018
Q. Hi,

I have a steel boat that was built in 1950. The hull is in exceptional condition for her age; however, I do have a slight issue that I want to sort in the best way possible. Below the waterline the boat has been replated at some point --because of this the steel hasn't enjoyed the same level of protection as the rest of the steel on the boat. Under the engine (which is extremely hard to access) I have what looks like coal tar epoxy that is wearing thin or totally gone leaving a thin rust layer or a degraded surface. My plan was to wire brush as best I can and then phosphoric acid the steel. Then, after washing and drying the area I intended on using a coal tar epoxy. Is this the right thing to do or is there an even better method? Any help on this would be really appreciated.
Paul Langham
- HULL, UK
---
---
October 6, 2018
Q. Today I treated both my fenders on my galvanized boat trailer with ospho. It got the rust off alright but left a copious white powdery residue. Mineral spirits doesn't remove the residue. I'd hate to have to sand it off, but I don't think my paint primer will stick unless I get rid of this residue. Anybody got any ideas?
Jim Dunn
Fisherman - Gautier, Mississippi
---
October 2018
A. Hi Jim. Ospho.com/directions.htm says "A dry, powdery, grayish-white surface usually develops; this is normal - brush off any loose powder before paint application." I don't think sanding is necessary but brushing with a wet scrub brush [affil link] is probably a good idea.
Regards,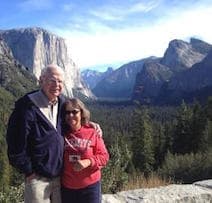 Ted Mooney
, P.E. RET
Striving to live Aloha
finishing.com - Pine Beach, New Jersey

Thanks Ted. The wet scrub brush brush is a good idea. Thanks for your input.
Jim dunn
[returning]
- gautier, Mississippi
October 8, 2018
---
---
Pretreatment for classic auto restoration
October 13, 2018
Q. Greetings,
I am restoring a 1970 SS Camaro.
I disassembled and media blasted the entire vehicle; The shell, basically encompassing everything from the firewall to the rear bumper, is now completely bare metal and mounted on a rotisserie.
There is very little metal rot on the vehicle, with the exception of the trunk's floor pan, (which I will be either replacing or repairing).
To prevent further corrosion and to protect the metal, I applied copious amounts of phosphoric acid to the vehicle, inside and out.
I have cleaned the metal of the blackened residue left behind but of course there remains the powdery white coating as well as a thin coat of residue.
I am preparing the shell for paint and reassembly, which will first entail an application of an epoxy primer coupled with 3M 2K seam sealer and Everwood's spreadable seam sealer and a minimal amount of body filler.
I am seeking advice on how best to neutralize the phosphoric acid. If I do not neutralize the acid none of the body filler or subsequent paint will adhere.
My ideas, so far, are as follows:
1. Wash the vehicle with copious amounts of water and commercial grade sodium bicarbonate.
2. Dry the vehicle with compressed air and towels.
3. Soda blast the vehicle to remove the flash rust and any remaining phosphoric acid.

I am aware the sodium bicarbonate will have to be neutralized as well, but am expecting the wax and grease cleaner I wipe the vehicle down with with take care of that, (although I intend to confirm this first and not "hope for the best"!)
I am also considering having the blasting done with dry ice but so far I have been unable to locate a company capable of doing that.
There are coatings I will be using, (I use primarily Eastwood coatings), on the vehicle's "hidden" areas that are designed to cure over metal with a phosphoric residue.
Please provide any suggestions or point out any flaws.
I very much appreciate any assistance or advice given.
Thank you.
Stephen Coney
- Lake Stevens, Washington
---
October 16, 2018
A. Opinion only, no guarantees:

Paint adhesion is usually better over slightly acid residues than over alkaline residues such as sodium bicarbonate.

If it were me, I'd pressure wash with plain water after the phosphoric acid, then dry the vehicle as quickly as possible to minimize surface rust. Then I'd wipe it down with a suitable solvent and get the first primer coat on.

I'm leery about bicarbonate leaving an alkaline residue.

I'm also leery of soda blasting for the same reason. Dry ice blasting is great if you can find it. If not, then plastic media blasting is a good second choice.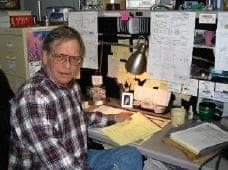 Jeffrey Holmes, CEF
Spartanburg, South Carolina
---
October 17, 2018

Sounds like an excellent idea. Between the few days I made the post and today, I continued to research the issue and was told very much the same thing by numerous sources.
Consequently I am no longer considering soda blasting or dry ice blasting. Instead I have began the exact process you described.
Thank you very much!
Stephen Coney
[returning]
- Lake Stevens, Washington USA
---
---
Q. I want to paint an exposed up the wall and over the roof gas line installed about 6 months ago. The first 1.25" pipe the plumber could find was epoxy coated iron pipe. I have the prep for the coating covered. Galvanized fittings were used to join lengths of pipe and to make turns. These and the epoxy coated pipe have started to rust where the threads are exposed. I'm concerned about rust treatment and priming for the galvanized fittings. I've read that orthophosphoric acid can be used to 'profile' galvanized metal.
Should degrease as a first step, and then use Ospho as the next step, and then wash and dry?
Should I be prepared to paint with primer as soon as possible?
Is a solvent based primer preferable to a water base latex?
I want to finish with water based acrylic house paint.
John Baum
- Palo Alto, California USA
November 11, 2018
---
November 2018
A. Hi John. That sounds right except latex primer is preferable. Oil-based paints can react with the zinc to form a layer of soap, with the paint therefore coming right off.
Regards,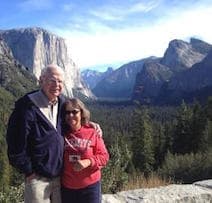 Ted Mooney
, P.E. RET
Striving to live Aloha
finishing.com - Pine Beach, New Jersey
---
---
Do I need latex primer between old galvanizing and new cold galvanizing compound?
February 13, 2019
Q. I am repairing rust areas on a galvanized boat trailer. I have cleaned up the rust areas and applied Ospho and power washed to remove residual Ospho and loose white dust.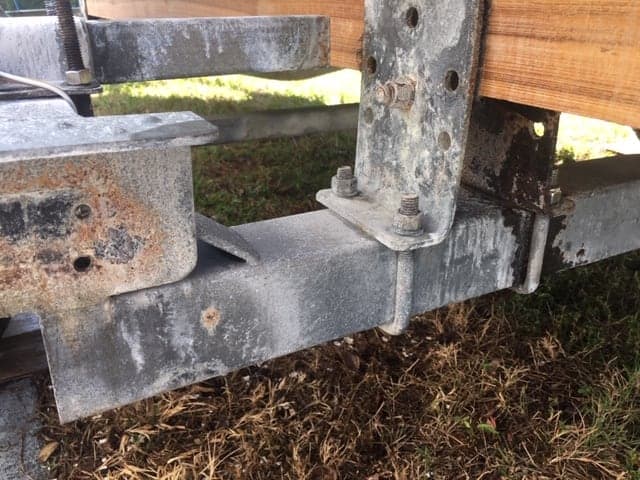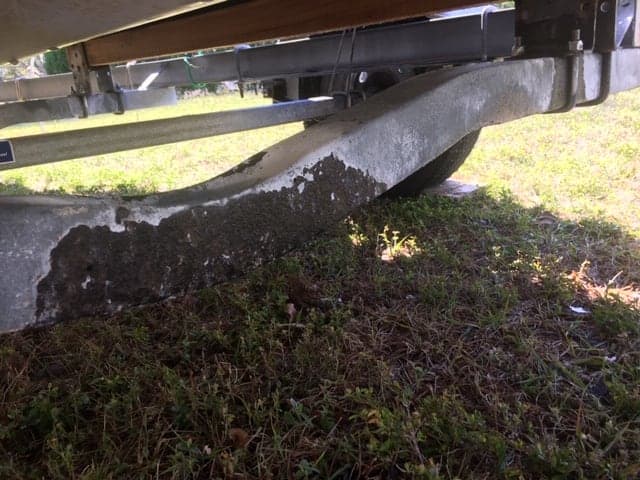 Can I apply cold galvanizing paint directly to the treated areas? Or should I consider a latex based primer to prime the well weathered galvanized areas and the Ospho treated areas? Comments appreciated.
Richard
Richard Venetoff
- North Port,Florida
---
February 2019
A. Hi Richard. Although it is true that galvanizing is not compatible with some oil-based paints, which might tempt you to use latex, I don't think you need or should use a latex primer before cold galvanizing compound. As far as I can see, it's intended to be applied directly to worn galvanized areas as well as bare steel. Unless the instructions say otherwise, and I don't think they will, I'd apply the cold galvanizing directly to the Ospho and to any clean areas whether galvanized or bare.
Regards,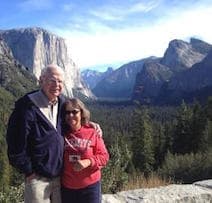 Ted Mooney
, P.E. RET
Striving to live Aloha
finishing.com - Pine Beach, New Jersey
A. I applied Ospho to a few different old rusty truck parts and it stuck really well but you have to let it dry at least 48 hrs -- it has to be really really dry. If you can keep it out in the sun even better. I applied yesterday to my 53 chevy frame that was all rusty, but first I brushed good, it passed more than 24 hrs and still not dry so make sure that it is completely dry before applying the primer.
Luciano vittone
- Palm Harbor, Florida
March 31, 2019
---
June 24, 2021
Q. Hello Richard, I am wondering how the cold galv. came out on your trailer. I know the post you put on this site is quite old but, I'm hoping to get some info.
I put OSPHO on my boat trailer only to find out that the zinc coating I was preparing to spray on won't stick, at least that is what the tech at Crown (the zinc coating) told me. Did the cold galv you put on your trailer stick? What did you do to prep after the OSPHO?
Gary Crehan
- Wilsonville, Oregon
June 26, 2021
Q. I have used OPSHO for years. For those of you who are not familiar with it, OSPHO is a balanced formula of Phosphoric Acid, Dichromates, Wetting Agents, and Extenders. OSPHO is environmentally safe and non-flammable. OSPHO seals out moisture and prevents future rust from forming. Paint can be applied directly over the dried ospho, but CCGC is not paint. Want to spray on Crown Cold Galvanizing Coating, which is 93% zinc by weight. has anyone done this before?
Gary Crehan
[returning]
- Wilsonville Oregon
---
---
May 15, 2019
Q. Hello. I have a 1983 Shoops 2 horse bumper pull trailer. I believe it is steel. It is pretty rusty on the inside with a few pinholes at the ceiling center and rust on the exterior especially in the door and around the back trailer door. I am unsure if I need to remove all the outside and interior rust as well as the paint before applying the Ospho? Should I use an angle grinder with a carbon cup brush over the whole thing? Power wash it?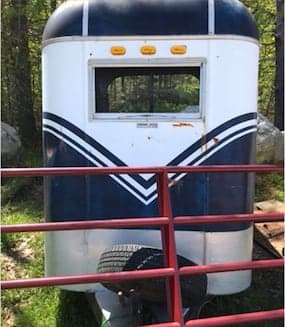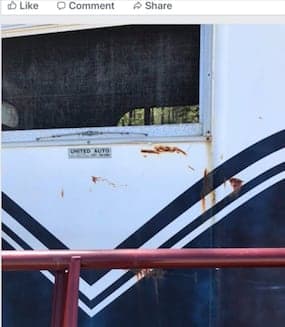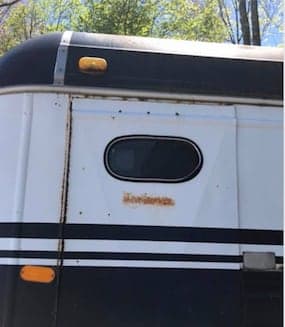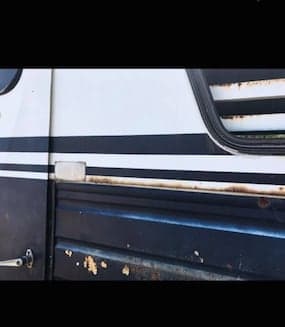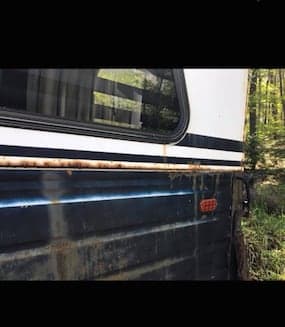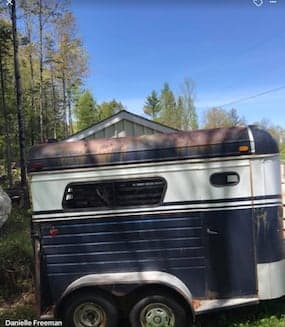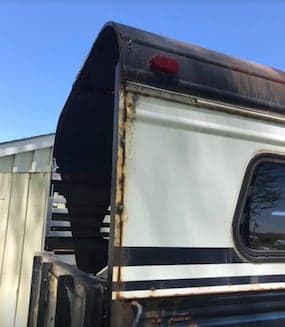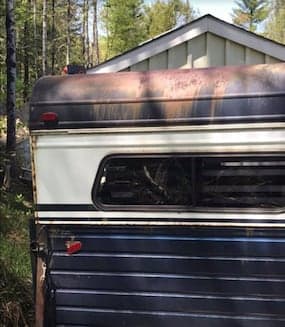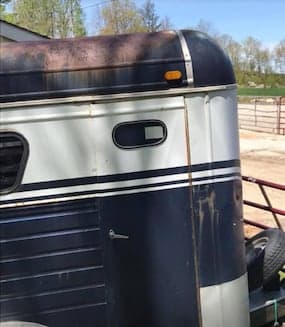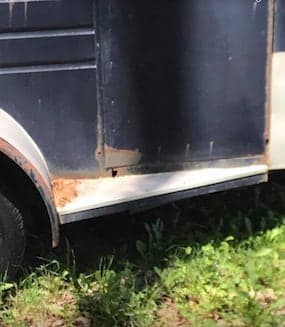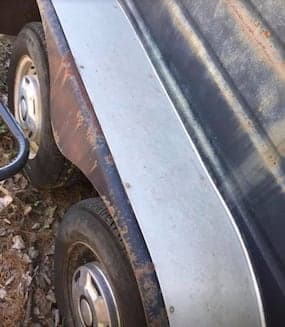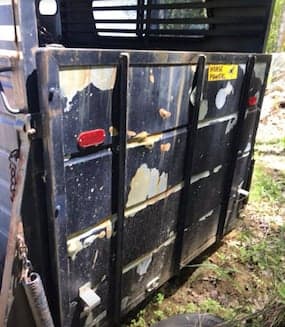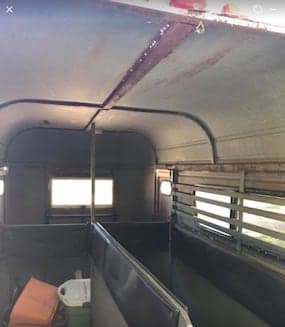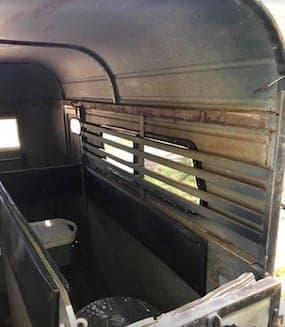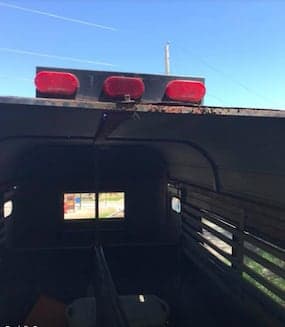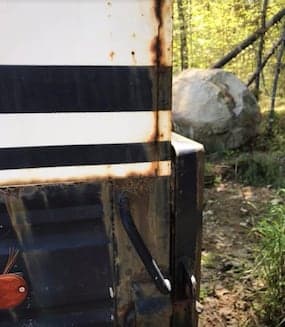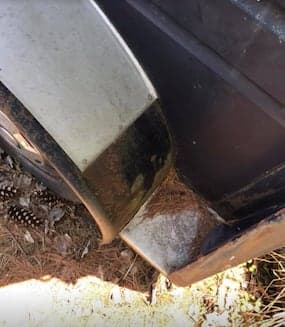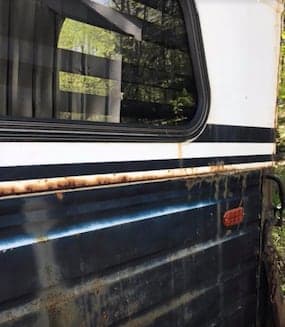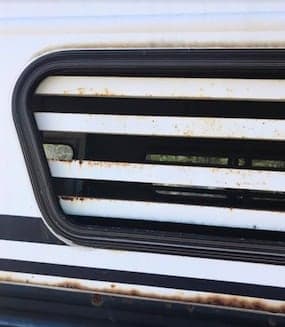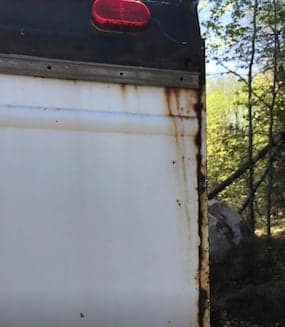 After Ospho application, do I wet sponge off the white residue everyone is talking about? What kind of primer can I use after Ospho? I want to do this project myself, but, want to do it correctly. The trailer frame is excellent, newer floor and all lights and brakes work great. Just needs a desperate makeover. Thanks for any advice.
Danielle Freeman
- W. Gardiner, Maine USA
A. I am in the process of repainting a car from 1975. When I get down to bare metal I use Ospho to coat the metal. These are the tips I can offer. It is thin like water so it goes a long way. If you spray it on and let it dry you will not only create a metal seal but you also get a white powder on the surface. You will not want this and you will have to remove it eventually. Over time I have found that applying the Ospho with a paper towel or paper shop towel and wipe it on almost like a polish. I have had a hood in bare metal for over two years with no powder and no residue. When you paint the metal it has been recommended by a highly reputable epoxy mfgr that you re-wet the metal with Ospho and then wipe it clean, sand with 80 grit and paint or seal it. If you do a search on "Neutralizing Ospho" you will find it right away. Hope this helps with your projects. Big fan of Ospho!
Jay McArdle
retired - WEST POINT, Virginia USA
August 26, 2019
---
---
November 2, 2019
Q. Help please! We scraped off the rusty spots and then used Ospho on our metal gate. We could not paint the following day but painted the next day (48 hours later) . We wiped it down with paint thinner and then sprayed it with a DTM enamel and the next day a white powder started showing through. The gate had been sprayed with Ospho and paint 8 years ago with no problem. We're not sure what we did wrong, but more importantly, not sure what to do now. Any thoughts are appreciated.
Carrie Elkins
- San Angelo, Texas, USA
---
---
November 5, 2019
Q. I had a Model A body sandblasted inside and out. The blaster told me to spray it down with Ospho, so I did, undiluted and let it dry, nothing done to neutralze. Now 6 months later,bodywork complete, reading different paint instructions am really ,confused. One says not to use etching primer over Ospho treated surfaces. A lot of areas are back to bare metal after the bodywork. Should I re-blast and prime immediately with no acid prep,re prep with Ospho and neutralize, use an etching primer,or what do you suggest?
Don Mills
Hot Rodder - Salem, Alabama, USA
A. So Ospho is a great product, but must be used carefully. Wear gloves, eye protection and long sleeve shirts. First, remove as much rust as possible with wire brush. If final appearance is important, follow up sandpaper after the brush. Then blow off all dust and apply Ospho. Let dry 24 hours. If the metal is a galvanized trailer, just wire brush off the Ospho residue and hit it with Cold Galvanize spray paint as your primer. If standard metal, you must neutralize the Ospho with Baking Soda or ammonia. Spray all the areas with the neutralizer, wait 15 minutes, wash down with clean water then blow dry. Now get a good zinc zinc dust [affil link] er for your first coat, then follow up with finish coats of epoxy paint.
James Madison
Engineering - Fort Myers, Florida, USA
January 3, 2020
---
---
May 31, 2020
Q. Previously I used Ospho on my 4RUNNER box frame. I was able to brush off the white powder on the outside and paint over but inside the frame I could not brush it off obviously because I couldn't access it. So the Eastwood frame paint I sprayed in there afterwards didn't adhere properly and the first time I drove through some salty spray it started rusting again.

I am now working on my old Land Cruiser. It has sheet metal coming together like a sandwich and I want to put a rust converter in the gap between the two sheets to seep through. But I will not be able to remove the white residue, again the same dilemma. So how to I convert and properly seal the rust between the two sheet metal pieces without having access to that microscopic gap?
Mark Cunnington
hobbyist - North Vancouver, BC, Canada