topic 7388
Fine Polishing on Rare Metals (Tantalum) Which Method?
(2001)
Gentlemen,I'm in a bit of a bind. I need to have certain probe tips polished to a mirror finish and a 2 mm radius of curvature on about a 100 micron diameter tip. I've looked at electropolishing but it seems the metals I want to use are too exotic or inert in the stainless steal baths (Tantalum, Titanium, Zirconium, Rhenium, Hafnium..) As of now we are doing the process by hand by going to the diamond film "rough" grind and then moving to the felt pad with silica for the final polish. We get inconsistent polishes and radii. Do you have any suggestions? We thought about FIB as a cutting tool to meet the specifications of the radius and perhaps a CMP for the final polish.. Any thoughts would be much appreciated.
Anu gupta
- Pittsburgh, Pennsylvania USA
---
(2001)
Not sure exactly how to proceed here. Other than the metals you are using your part size and description were not mentioned, but if you considered electro polishing, it must be compatible for some small mass finishing systems.
I think your only problem might be selecting a media capable of doing your parts without creating additional problems. Therefore, I am leaning toward recommending dry organic media.
You have a couple of choices here. Use loose small particles, a mix of wood shapes and particles, or a new preform dry organic shaped media. All of these are run in a dry process which eliminates water problems.
I can't be specific until you provide more details.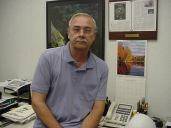 AF Kenton
Hatboro, Pennsylvania
---
(2001)
I second Mr. Kentons advice above. My only provision is that you might want to see what a higher speed dry process method might do in terms of providing part-to-part and lot-to-lot uniformity that you can not achieve by hand methods.
A number of vendors solicit people with finishing problems to send them parts for sample processing in hopes that the customer will buy into the process, and hence that vendors equipment and/or materials. You should identify some of these people and send them some of the parts in question.
Dave Davidson
-Bartlett, New Hampshire


This public forum has 60,000 threads. If you have a question in mind which seems off topic to this thread, you might prefer to Search the Site