topic 7308
Blue Coatings on Titanium
2001
Q. Does anyone know about a blue coating used on titanium?
I have seen it applied on bolts that were to be used in the aerospace industry - supposedly they were for satellites. I don't think the coating was anodized (ti oxide).
I asked a friend who used to work in aerospace if he had seen the coating. He remembered a blue coating on titanium and thought that it was from some other coating process that usually wasn't used for titanium. He didn't really know any specifics however, just that it was blue and intended for something else.
Any ideas on what it could be? Or if it is Ti Oxide, what would be the purpose of anodizing the bolts blue? Visibility? Electrical insulation?
Marc Pfister
- Sunnyvale, California USA
---
Q. Hello,
I am looking for process data to anodize titanium such that a blue finish is achieved.
Roy Redelinghuys
R.D.I - New Germany, South Africa
---
2001
A. You will get a blue coating on Ti by Anodizing it in Phosphoric acid at virtually any acid concentration.
Anthony J. Covey
electroformer - Corona, California
----
Ed. note: See related threads "Fading blue titanium anodize" and "Anodizing titanium surgical instruments in blue"
---
2001
A. Actually, titanium and it's alloys can be anodized to pretty blues in just about any electrolyte. For a science fair project a few years ago, my son tried several solutions and several alloys. He decided the lemon juice, 24 volts, and Beta C alloy gave the deepest, prettiest blue.
There were a couple of articles in the early 80's in both JOM and Metal Progress, on the different colors achieved with different voltages. Remember the color comes from interference coloration, so it will depend on the thickness of the oxide layer.
Have Fun!

Lee Gearhart
metallurgist
----
Ed. note: See related thread "Anodizing titanium alloys in gold and other colors"
---
A. We anodize on Titanium. Although its quite a new process for us.. we do manage to get an even color. The color you get depends on the voltage you are using. Experiment with dummy parts at different voltages. You will manage to find a voltage with the voltage you need. The type of finish on the surface of the part will greatly affect the color you get. Also, clear lacquering over the anodized part might change the colour of the anodized part.
Mark Camilleri
- Malta
---
2001
A. I have seen samples of work done by Mr. Mel Faul of E. Greenville, Pa. He has successfully applied Anodize colors of almost the entire spectrum to Titanium.
You asked what it could be used for? Well, for example on the Space Shuttle, hand grab bars are color coded with a certain color. The Astronauts are trained only to grab onto the certain color hand rails. Any Titanium parts of another color are not intended for any purpose like that and are never used for maneuvering about within the Shuttle.
Hope this helps.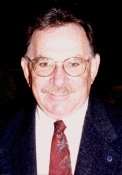 Ed Budman
- Pennsylvania
With deep sadness
we announce that
our friend Ed passed
away Nov. 24, 2018
----
Ed. note: The site's supporting advertiser, Russamer Lab, specializes in titanium color anodizing, and licenses their processes: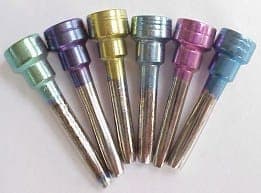 ---
2001
A. The coating was probably ti-oxide. The purpose is widespread. First, anodizing reduces the surface roughness by approx. 50%. And second, the process reduces GALLING TO ALMOST ZERO. By putting a protective coat on the bolts they are eliminating a dissimilar metal reaction, thus, no galvanic action.
Eugene Small
retired - Albany, Oregon
---
May 6, 2010
Q. Is there any way of making the oxide layer on Ti more conductive?
michael binder
- brooklyn, New York
---
May 6, 2010
Hi, Michael. It can probably be plated, or painted with a conductive paint, but it may depend on whether the anodic coating is acid or alkaline. The acid coatings are very thin and decorative, often used for jewelry, and may not be much of a hindrance to conductivity. The alkaline coatings are much thicker, often done to AMS 2488 [link by ed. to spec at TechStreet] and for engineering purposes (such as galling reduction as mentioned by Eugene).
Can you spend a few more sentences describing your situation? Maybe someone can offer additional help. Thanks.
Regards,
Ted Mooney, P.E.
finishing.com
Pine Beach, New Jersey
----
Ed. note: See related thread "Alkaline Anodizing of titanium"
---
---
October 23, 2012

-- this entry appended to this thread by editor in lieu of spawning a duplicative thread
Q. Hi sir,
I want to know about titanium color anodising of Ti-6Al-4V using 200 g/l of sulphuric acid as the electrolyte. I need blue color anodising. I want to know whether I can get this color only at 18 ° C and 18V, or is there any range of temperatures and voltages to get that color? If it is so, please tell me the required parameters.
Kaoushik Murali
- Chennai, Tamilnadu, India


If you have a question in mind which seems off topic, please Search the Site