World's #1 on-line resource since 1989
•
-----
Cleaning a very old French Clock with Ormolu Finish
Oldest questions first ...
2001
Q. Hi! I am working on cleaning an old (ca 1795) French clock that has "fire-gilt" bronze mounts.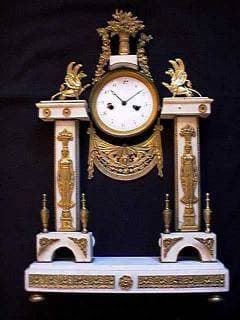 One of the pieces was cleaned by the previous owner by soaking it overnight in clock-cleaning solution and then polishing it with foam silver polish. I've heard that ormolu is pretty delicate, but I don't see how it could develop any real "patina" since it doesn't oxidize at all.
OK, with that intro, here is what I'd like help with:
1. Do you think he damaged the gold by using the polish?
2. How should I clean the remaining pieces?
Many thanks!
Rob S
[last name deleted for privacy by Editor]
- Philadelphia, Pennsylvania
---
---
Ormolu / Gilt Metal Cleaning
2001
Q. I would also like to ask what is the best way of cleaning ormolu mounts. I have an Empire cut class lidded bowl with ormolu mounts, and it has been painted a long while ago. I have in the past noticed that ormolu can have a strange greyish - blue oxidation. I wonder what this is? It is fairly rough, and can be picked off, a bit like the tartar on teeth. It can be removed from flat surfaces very easily, but the problem arises when it needs removing from delicately chased figures and decorative bands. Can anyone help? Is there some kind of solvent that will remove it? It has properties similar to limescale, but vinegar doesn't do much to remove it.
Thank you.
Thomas Mezei
- Hungary
---
---
Gilt bronze, electrolysis, yellow gold finish in bronze
2002
Q. Hi technical support of finishing!
I'm a restorer. I have this customer with a wonderful French commode, plenty of ormolu. She wants this bronze ormolu look gilt bronze. She named something like Vermier, Vermeir the look that neoclassical sconces have, Soft metal and yellow gold look. I'm not sure if this is something that can be added now in some coating or by electrolysis. Any suggestions, I'll really appreciate. Also if this can be done, who can do it, company, craft people...?
Thanks!
Haydee A. I. Salinas
Iabel Aalinas, Artisan. Antiques & Fine Furniture Restoration. - Englewood, New Jersey
---
2003
A. I have used diluted lime juice quite successfully to clean ormolu which has gone quite black with age ...
Q. ... but would like to know if this can do any harm, or what other methods for cleaning ormolu especially mounts which are complex shapes and not with flat surface.
H. Walford
- Bangkok, Thailand
---
---
June 10, 2015
Q. I have a very old Ormolu clock that needs cleaning? Could you give some advice as to what materials to use to clean it without damaging the gold finish.Cheers Gregor
Gregor Casey
- Paihia Bay Of Islands Far North New Zealand
---
June 11, 2015

A. Good day Gregor.

Try this web site;

www.vam.ac.uk/content/articles/c/caring-for-your-gold-and-ormolu/

The ammonia sounds like a good idea with a gentle polish.
Remember that the gold deposit can be very thin, after the mercury is burned off during the manufacturing process.
There may be some copper also in the deposit, giving it a reddish tone.
I would suggest a light polish with rouge and clean with mild detergent.

Hope this helps.

Regards,

Eric Bogner




Lab Tech. - Whitby, On., Canada.





---

June 11, 2015

A. Try this link; there are some metals conservators on this list.

www.cool.conservation-us.org/misc/people/nations/new_zealand.txt

Hope it helps and good luck!

Goran Budija




- Zagreb,Croatia





----
Ed. note April 2021: Goran's link has gone bad, but his advice to seek a metals conservator has not :-)
---
June 12, 2015

Dear Eric, thank you for your prompt reply and information. I will be getting stuck in to it, ASAP. Kind regards.
Dear Goran, thank you for your fast response and information. I will get on to that site and get on to cleaning the clock ASAP. Kind regards
Gregor Casey
[returning]
- Paihia Bay Of Islands Far North New Zealand